First Class Fashionista would like to invite you to shop:
Discount Designer Clothes
Discount Designer Shoes
Discount Designer Handbags
*BOOKMARK THIS SITE* Celebrity Weddings



It's All According to the Buzzzzzzzzzz
How Bruce met Emma!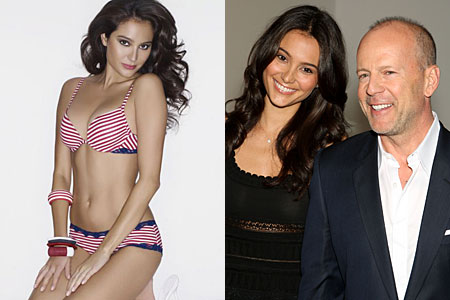 Bruce Willis married model Emma Heming last Saturday, March 21, 2003 at his estate in Turks and Caicos. Reportedly, Bruce and Emma met on the set of the movie "Perfect Stranger" starring Halle Berry. The story is that Bruce Willis was very involved with the production and casting of the film. There were openings for extras and minor speaking roles and Bruce Willis (single at the time) requested that a few modeling agencies be contacted.
Rumor has it that Willis even personally selected the models to be interviewed from their head shots and was questionably present when they were called in to read During the filming, Bruce Willis is said to have dated both Tamara Feldman and Emma Heming. Later, of course, continuing his relationship with Emma.
Does this sound like a movie in the making?