KFC Locations Across the Country Out of Chicken
First Class Fashionista would like to invite you to shop:
Discount Designer Clothes
Discount Designer Shoes
Discount Designer Handbags
*BOOKMARK THIS SITE* Celebrity Lifestyle, Fashion & Entertainment News



It's All According to the Buzzzzzzzzzz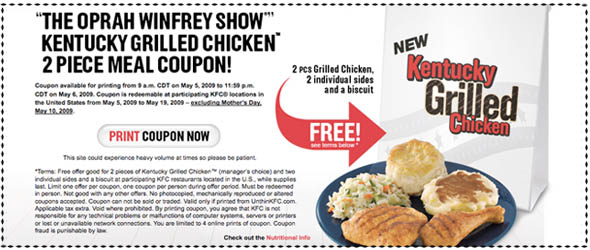 Here is where you can tell thousands of people what you think. Share a comment with thousands of visitors. *Copyright Protected.
First Class Fashionista
permits a direct homepage link and credit. I got a call late last night about a coupon to receive a free KFC chicken meal on Oprah.com. Well, I missed the show and didn't know what the fuss was all about. I told the caller, "You know I don't like KFC". But, I was persuasively encouraged to go to Oprah.com and download the coupon because, the caller reasoned, it was free. I still wasn't very interested, so I must admit that I had someone else get the coupon for me. Then today I wanted to know what the fuss was all about and I found out that KFC now has grilled chicken by the meal or bucket. To my surprise, the coupon is for a two piece grilled chicken meal. I'm still not sure what stake Oprah has in the deal; but I do know that by posting the KFC coupon on her website, she has definitely helped get the word out. KFC now has grilled chicken and I'm going to try it for free-thanks to my anonymous caller, KFC and Oprah.com. I'm thinking, this sounds like an advertisement and I wish I were paid for this post, but I'm not (I'm almost sure that Oprah got paid)…Oh Well.
*I heard that a lot of KFC locations actually ran out of chicken yesterday.