First Class Fashionista would like to invite you to shop:
Discount Designer Clothes
Discount Designer Shoes
Discount Designer Handbags
*BOOKMARK THIS SITE* Celebrity Lifestyle, Fashion & Entertainment News Blog



It's All According to the Buzzz
Prive Las Vegas Nightclub Discriminatory Practices Based on "ISMs" Exposed
It's a fact the modern day buzz word "selective" is often used to describe the "lucky?" guests who are handpicked or selected by the bouncer(s) to step beyond the red ropes of a nightclub perceived to be exclusive. But what does selective really mean? Today, I'm taking time out to tell you the ugly truth (as I see it) about so called "selective" Las Vegas Nightclubs. Sadly, this is our second article in an ongoing series written on the discriminatory practices, we believe to be solely based on "isms", frequently exercised by a number of "exclusive" Las Vegas Nightclubs. You can also refer to The Bank Nightclub Review. When you have finished reading what I've recorded during a recent visit to Prive Nightclub located inside of Planet Hollywood, Las Vegas NV, I'd like you to ask yourself the following very important question- Do I really want to participate in a selective process that is obviously blatant discrimination based on "isms"?
Prive Nightclub Selectivity Rooted in "ISMs"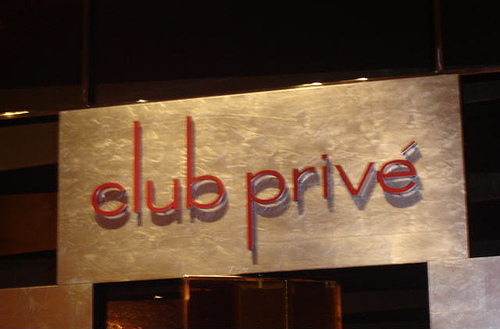 Here is where you can tell thousands of people what you think. Share a comment with thousands of visitors. *Copyright Protected.
First Class Fashionista
permits a direct homepage link and credit.
Similar to The Bank Nightclub, I believe Prive Nightclub, Las Vegas also attempts to create an "aura" of exclusivity by way of "isms" (i.e. sexism, ageism and yes, in my opinion, racism too). Here's the truth as I see it. First, and most importantly, I was told by a Prive Nightclub Las Vegas bouncer that people who actually think they are in line to get into the club are really just a crowd-so if you didn't know it- you are not in a line. And like The Bank Nightclub, you may find yourself waiting for over an hour to be handpicked from the crowd if:
Tip #1: Do Not Form A Crowd Around Prive Nightclub Las Vegas
1. You are not an unescorted female
2. Your skirt doesn't fall just below your butt
3. You are not twenty-something
4. You are not a friend of someone who works at the club
5. You are not White
6. You are not willing to pay extra to be included
Tip #2: Do Not Pay Extra to Be Included at Prive Nightclub Las Vegas
Based on my observations, here's who got into Prive Nightclub, Las Vegas without waiting on Saturday, June 13, 2009.
1. Most unescorted women and only select black females-Black women who came in groups were less likely to be selected for entry at Prive Nightclub Las Vegas.
2. White Men
3. Men who were accompanied by more than one female
Example: A man, I believe to be of Asian decent, yells out from the center of the crowd, "It's me plus three girls." He and the three women push through the crowd and are let in within ten minutes of arrival at Prive Nightclub Las Vegas.
4. Minority men who came in groups had to tip the bouncer about $40 dollars a piece, as well as pay the door cover of 30 bucks.
Example #1: I observed a group of six Armanian men who tipped the bouncer about $200 dollars.
Example #2: Interestingly, two other minority men also decided to tip the bouncer after waiting about an hour, was let in and almost immediately kicked out because they didn't realize that tipping the bouncer does not forgo the cover charge at the door.
5. Those who were willing to pay extra to be included at Prive Nightclub Las Vegas.
Tip #3: Do Not Wait in Line Longer than 20 minutes at Prive Nightclub Las Vegas
Based on my observations, here's who got turned away or had to wait a lengthy amount of time at Prive Nightclub Las Vegas on Saturday, June 13, 2009.
1. Black women -especially those who came in groups
Example: 4 beautiful unescorted black women, who were preferred guests of Planet Hollywood, were personally invited by Jermaine Dupri to join him at Prive Nightclub Las Vegas; but the bouncers moved the women from line to line and they were denied entry. This incident was reported to the hotel because Prive Nightclub Las Vegas is a vendor of Planet Hollywood, a Starwood Hotel.
2. Black Men
3. [Married] Couples
Example: A light-skinned black woman's hand was stamped by a bouncer for entry, but she was forcefully asked to step behind the ropes and back into "line" when the bouncer realized she was accompanied by her husband.
4. Classy and established looking older men and women
5. Those who "did not meet the dress code(?)"
Example: A black man was turned away for wearing a dress shirt. "It was too long." The bouncer said he would agree to let the man in if he changed his shirt. Looking around, the man asked if he could change into a t-shirt. The bouncer replied- A designer t-shirt. The man returned wearing a t-shirt with rhinestones and was turned away again, "It was too flashy." Finally, the man changed into a t-shirt similar to what everyone else was wearing that night and the bouncer decided to ignore him. He was granted entry only after getting the attention of another representative and explaining he had went upstairs to change his shirt twice. Later, on the dance floor of Prive Nightclub Las Vegas, the man says he saw the second shirt that the bouncer said did not meet the dress code.
Tip #4: If You Get Turned Away Because of a Dress Code Violation at Prive Nightclub Las Vegas, the Truth May Be an "ISM"!
I recommend the following Las Vegas Nightclubs:
1. LAX Nightclub
2. JET Nightclub
3 Moon
4. Foundation Room
5. Poetry
Tip #5: If You Personally Observe Discriminatory Practices Based on "ISMs" at Prive Nightclub Las Vegas or Other Nightclubs in Vegas-Go Somewhere Else! Speak Out.