First Class Fashionista would like to invite you to shop:
Discount Designer Clothes
Discount Designer Shoes
Discount Designer Handbags
*BOOKMARK THIS SITE for Updates* Celebrity Hairstyles

Lady Gaga MuchMusic Video Awards Fashion Oops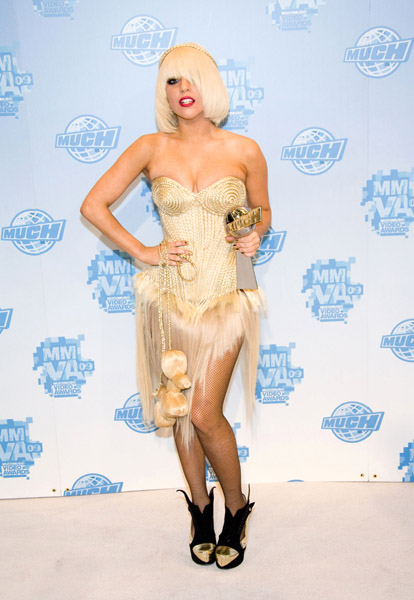 Here is where you can tell thousands of people what you think. Share a comment with thousands of visitors. *Copyright Protected.
First Class Fashionista
permits a direct homepage link and credit.
And, yet, Lady Gaga commits another fashion oops at the 20th Annual MuchMusic Video Awards held at the Muchmusic HQ in Toronto, Canada on June 21, 2009. Lady Gaga's look at the MuchMusic Video Awards can be described very easily as h-a-i-r-y. She is wearing a bustier with what looks like uneven [natural (?)] hair fringe. Take as second look at her handbag (?)! Is that a doggie handbag made of weave hair? Lastly, what's with the her hairstyle. Interesting! I have to ask- Who told Lady Gaga that this one-eyed cyclops, mushroomed styled hairstyle with a headband looked good? I am not even going to attempt to describe Lady Gaga's footwear!