Lil Mama's Hair Style, Catsuit and New Sexy Image at 2009 BET Awards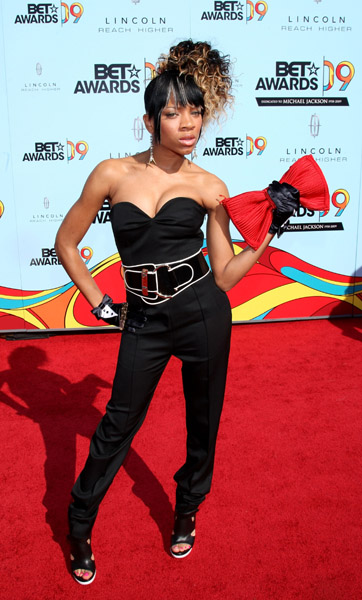 Here is where you can tell thousands of people what you think. Share a comment with thousands of visitors. *Copyright Protected.
First Class Fashionista
permits a direct homepage link and credit.
Surprisingly, this is a very tamed look for Lil Mama—I would even wear this jumpsuit / catsuit. Lil Mama seems to be blossoming into a more sophisticated young lady. I'm thinking she may be on the verge of changing her image. As we all know, Lil Mama is not a little girl anymore. Although, she is still expressing her wild and crazy sense of style. Just take a second look at the crazy pony tail.
Lil Mama on the red carpet of 2009 BET Awards held at the Shrine Auditorium in Los Angeles, California on June 28, 2009.