FirstClassFashionista would like to invite you to shop:
Discount Designer Clothes
Discount Designer Shoes
Discount Designer Handbags
*BOOKMARK THIS SITE* Celebrity Lifestyle, Fashion & Entertainment News

President Barack Obama Oops Pics (?)!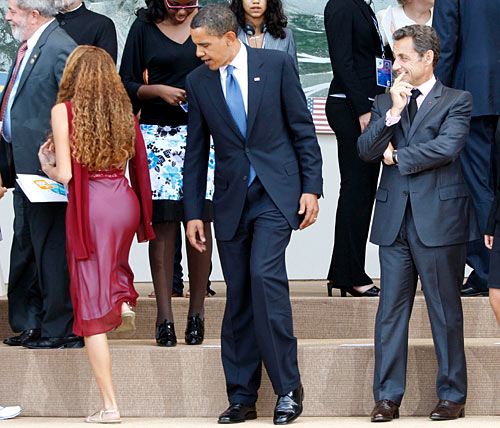 Here is where you can tell thousands of people what you think. Share a comment with thousands of visitors. *Copyright Protected.
First Class Fashionista
permits a direct homepage link and credit.
I almost didn't post this one because it's just so outrageously ridiculous and incredibly unbelievable. Well, I watched the video! It seems it's very unlikely that President Obama was checking out Mayara Tavares' butt. The video, which can be found on youtube, reveals a President Barack Obama probably looking at the stair just before he helped the woman behind him, to the left, take a step down. Don't forget to check out the video. I think this picture has been definitely taken out of context. Let's take it to a classier level people!