First Class Fashionista would like to invite you to shop:
Discount Designer Clothes
Discount Designer Shoes
Discount Designer Handbags
*BOOKMARK THIS SITE* Celebrity Lifestyle, Fashion & Entertainment News

That's right! Lady Gaga has agreed to go on tour with Kanye West in the fall on one condition…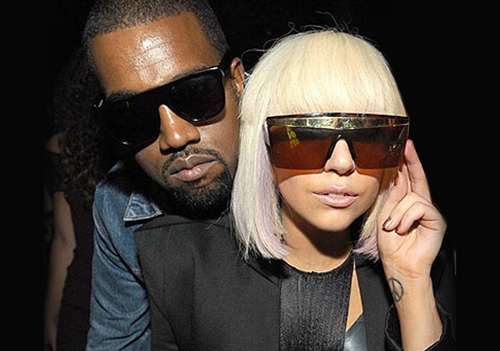 Here is where you can tell thousands of people what you think. Share a comment with thousands of visitors. *Copyright Protected.
First Class Fashionista
I just want to be clear before we decide to do this together: I'm gay. My music is gay. My show is gay. And I love that it's gay. And I love my gay fans and they're all going to be coming to our show. And it's going to remain gay.
Kanye West says, however, that he has become very secure in is manhood and he is no longer homophobic.
Well, it's like when people say, Give me a natural pose. You can't pose natural. If you're posing, then it's not natural no more. So it's statements that people say. Dressing gay, you can't dress like. Your dress don't give away whether or not you like a man. Think about actors that straight dress up like a woman or something like that. People wanna label me and throw that on me all the time, but I'm so secure with my manhood. And that's the reason why I can go to Paris, why I can have conversations with people who are blatantly gay. Cause I used to be scared to talk to a gay person. It's designers that's scared of people in hip-hop. And in hip hop, there's people and let's not even say scared like homophobic but they're scared of the way people gonna look at them. If you see a person be like, I don't wanna stand next to Marc Jacobs cause I don't want that to bear on me because I'm just so cool. One of the reasons why, the perspective I come from with my raps and my songs, the reason why can't nobody dis me" no gangsta rapper, nobody can really dis me is a cause it's so authentic.
Tour Dates and Locations:
Oct 04, 2009 – HSBC Arena Buffalo, New York
Oct 07, 2009 – TD Banknorth Garden Boston, Massachusetts
Oct 10, 2009 – 1st Mariner Arena Baltimore, Maryland
Oct 11, 2009 – Wachovia Center Philadelphia, Pennsylvania
Oct 13, 2009 – Xcel Energy Center Saint Paul, Minnesota
Oct 15, 2009 – Madison Square Garden Arena New York, New York
Oct 16, 2009 – Nassau Coliseum Uniondale, New York
Oct 17, 2009 – IZOD Center East Rutherford, New Jersey
Oct 28, 2009 – Quicken Loans Arena Cleveland, Ohio
Oct 29, 2009 – Verizon Center Washington, District of Columbia
Oct 31, 2009 – Palace Of Auburn Hills Auburn Hills, Michigan
Nov 02, 2009 – United Center Chicago, Illinois
Nov 05, 2009 – Toyota Center Houston, Texas
Nov 07, 2009 – New Orleans Arena New Orleans, Louisiana
Nov 08, 2009 – American Airlines Center Dallas, Texas
Nov 10, 2009 – US Airways Center Phoenix, Arizona
Nov 11, 2009 – Cox Arena at Aztec Bowl San Diego, California
Nov 13, 2009 – Mandalay Bay Events Center Las Vegas, Nevada
Nov 14, 2009 – Honda Center Anaheim, California
Nov 16, 2009 – Staples Center Los Angeles, California
Nov 18, 2009 – Save Mart Center Fresno, California
Nov 20, 2009 – ARCO Arena Sacremento, California
Nov 21, 2009 – HP Pavilion At San Jose San Jose, California
Nov 22, 2009 – HP Pavilion At San Jose San Jose, California
Dec 02, 2009 – Pepsi Center Denver, Colorado
Dec 03, 2009 – Tingley Coliseum Albuquerque, New Mexico
Dec 05, 2009 – Sprint Center Kansas City, Missouri
Dec 06, 2009 – Scottrade Center Saint Louis, Missouri
Dec 09, 2009 – Bank Atlantic Amphitheater FT Lauderdale, Florida
Dec 11, 2009 – Philips Arena Atlanta, Georgia
Dec 12, 2009 – Greensboro Coliseum Complex Greensburo, North Carolina
Dec 13, 2009 – Norfolk Scope Arena Norfolk, Virginia
Dec 15, 2009 – Mohegan Sun Arena Uncasville, Connecticut