First Class Fashionista would like to invite you to shop:
Discount Designer Clothes
Discount Designer Shoes
Discount Designer Handbags
*BOOKMARK THIS SITE* Celebrity Lifestyle, Fashion & Entertainment News



It's All According to the Buzzz


Quentin Tarantino Snitches on Brad Pitt! | Celebrity Snitches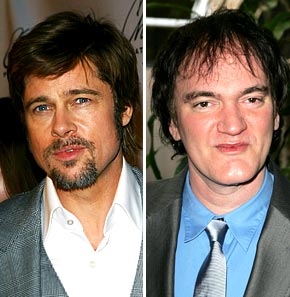 Here is where you can tell thousands of people what you think. Share a comment with thousands of visitors. *Copyright Protected.
First Class Fashionista
permits a direct homepage link and credit.
Earlier this week, Brad Pitt told us on Bill Maher that he has decided to quit smoking marijuana because he is a father and he wants to be alert. However, we have now learned from Quentin Tarantino that, perhaps, Brad has / had more to give up than a bit of pot. Shockingly, Quentin Tarantino says that he has smoked hash with Brad Pitt out of a Coke can. Quentin, really, did Brad want us to know about this? Hmm…How do you spell? S-N-I-T-C-H!