First Class Fashionista would like to invite you to shop:
Discount Designer Clothes
Discount Designer Shoes
Discount Designer Handbags
*BOOKMARK THIS SITE* Celebrity Lifestyle, Fashion & Entertainment News



It's All According to the Buzzz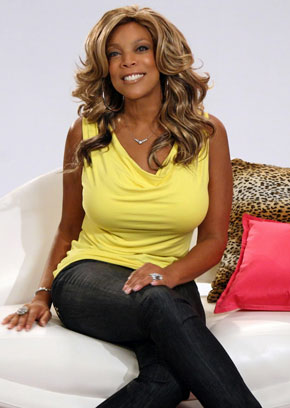 Here is where you can tell thousands of people what you think. Share a comment with thousands of visitors. *Copyright Protected.
First Class Fashionista
permits a direct homepage link and credit.
Today, on the Wendy Williams Show, Wendy told us that she was wearing a skirt from Target and a pair of Payless ShoeSource shoes because, well, the recession is still in.
I thought about this. Hmm… Now, I do believe that Wendy will, on occasion, wear a skirt from Target-given she told us that she got married in a skirt from Kohl's. But Wendy wears Payless ShoeSource shoes- I don't believe. Who remembers when Star, from "The View", had a line at Payless ShoeSource? Everyone knew that Star would not even consider wearing Payless ShoeSource outside of getting paid. Sooo…Wendy (tell us the truth), is Payless Shoesource a sponsor of the "Wendy Williams Show"? As Wendy likes to say, Riddle me this– What happened to the Christian Louboutin heels with the fabulous red bottoms worn on a previous episode? It's okay, Wendy. I understand, this blog is sponsored too. The truth is, however- more often than not-Payless ShoeSource shoes hurt.
P.S.
Wendy,
I love your show (you are the queen of gossip), but I'm not rushing out to buy a pair of Payless ShoeSource shoes… Okay, I will if Payless ShoeSource paid me to 🙂 -I'll wear them and then I'll tell my readers about my experience. Tell me, is Payless ShoeSource shoes more comfortable now?
-Your Fan at FCF
Thanks in advance for mentioning First Class Fashionista.com on your show.
You are an inspiration to us all!

Jamie Foxx's New Baby
LisaRaye and Al Sharpton Dating