First Class Fashionista would like to invite you to shop:
Discount Designer Clothes
Discount Designer Shoes
Discount Designer Handbags
*BOOKMARK THIS SITE* Celebrity Lifestyle, Fashion & Entertainment News

Miley Cyrus' Pole Dance at Teen Choice Awards 2009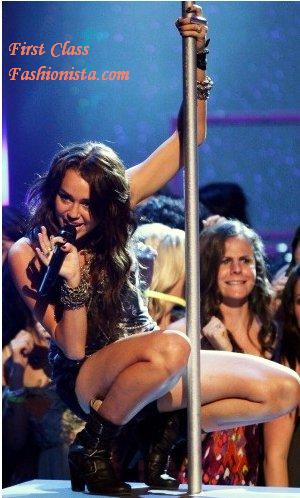 Here is where you can tell thousands of people what you think. Share a comment with thousands of visitors. *Copyright Protected. First Class Fashionista permits a direct homepage link and credit.
Shockingly, during Miley Cyrus' "Party in the U.S.A" Teen Choice 2009 performance, Miley inappropriately danced in short shorts, bra exposed, with a stripper pole atop an ice cream cart.
What a shame. Miley is only 16 years old. She is still a little girl and the industry is trying to turn her out. Is Miley ready to be a sex symbol…? I think not! And how sick. I mean, really, we must also remember that Miley has established a fan base of little girls with impressionable minds.
BTW, everyone blames Miley; but is it really her fault? Who is protecting Miley? Was Miley's dad, sitting in the front row of the Teen Choice Awards, really comfortable with watching his little girl, Miley, dancing on or anywhere near a stripper pole? Who's making the decisions for what's okay and what's not okay for Miley and girls like her?