First Class Fashionista would like to invite you to shop:
Discount Designer Clothes
Discount Designer Shoes
Discount Designer Handbags
*BOOKMARK THIS SITE* Top Celebrity Gossip Blogs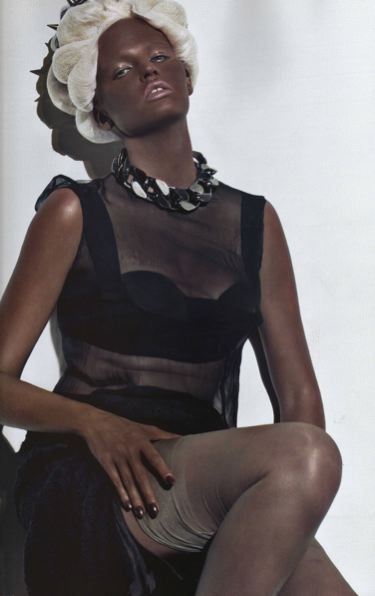 Here is where you can tell thousands of people what you think. Share a comment with thousands of visitors. *Copyright Protected. First Class Fashionista permits a direct homepage link and credit.
French Vogue Culturally and Racially Insensitive
I find French Vogue to be inexcusably culturally as well as racially insensitive. Shockingly in French Vogue's October Edition, Dutch Model Lara Stone's white skin is painted black from head to toe.
In America this is called Blackface. Historically, Blackface was widely used in America in Minstrel shows and movies; which often perpetuated racist stereotypes of African-Americans as lazy, dishonest and over-sexual.

Why couldn't they get a black women?
Why…?
This was meant to shock.
This is extremely disturbing.
This is extremely culturally insensitive.
I believe that this was done at the expense of others.
This is extremely insensitive.
This is extremely offensive.
This is extremely racist.
There are no excuses.
This is not even pretty.
Can this be considered art?
Make them pay…
Don't buy French Vogue.