First Class Fashionista would like to invite you to shop:
Discount Designer Clothes
Discount Designer Shoes
Discount Designer Handbags
*BOOKMARK THIS SITE* Top Celebrity Gossip Blogs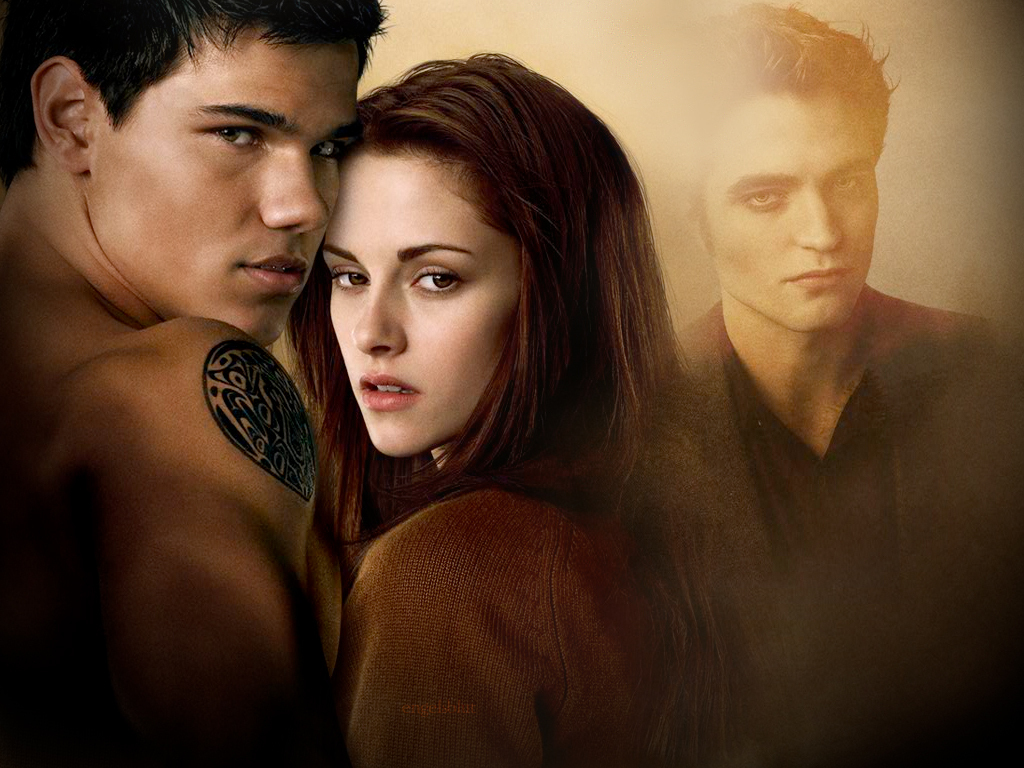 Here is where you can tell thousands of people what you think. Share a comment with thousands of visitors. *Copyright Protected. First Class Fashionista permits a direct homepage link and credit.
This post has been brought to you by popular request. It's a love triangle between Bella, Edward and Jacob.
You die hard Twilight fans who have read the Twilight books know what I'm talking about.
So as we eagerly anticipate the opening day of of the film, "Twilight Saga: New Moon", I dare to ask: "Are you team Edward or team Jacob?" Why?
Is your choice made on the premise of good or evil…? Angel or devil? Vampire or werewolf? And we must remember that both Edward and Jacob are deeply in love and committed to Bella. So whose team are you? "Are you team Edward or team Jacob?"
I am not afraid. I am Team Jacob, so there.
About Bella, Edward and Jacob:
Bella Swan
Isabella "Bella" Marie Swan (later Isabella Marie Cullen) is a clumsy, accident-prone teenage girl who moves from Phoenix, Arizona, to Forks, Washington, to live with her father, Charlie. Though many boys are attracted to her when she arrives, she falls in love with Edward Cullen, a mysterious boy she discovers to be a vampire. In an attempt to protect Bella from his lifestyle, Edward leaves her. Bella falls into a depression and is comforted by her friend, Jacob Black. She comes to love Jacob as well, though not as deeply as she loves Edward. She eventually marries Edward and, after a complicated pregnancy, gives birth to their daughter, Renesmee, and becomes a vampire at age 18. After Bella's transformation, she has the ability to shield her and others' minds from mental attacks.
Kristen Stewart plays Bella in the Twilight film series.
Edward Cullen
Edward Cullen (born Edward Anthony Masen) was born on June 20, 1901 in Chicago, Illinois, and is frozen in his 17-year-old body. While dying of the Spanish influenza, he was changed into a vampire by Dr. Carlisle Cullen after Edward's mother, Elizabeth, begged him to save Edward as her dying wish. Edward only drinks animal blood and has the special ability to read minds, with the exception of Bella Swan's. He falls in love with Bella soon after she arrives in Forks. Edward knows that he could kill Bella easily, a fact that torments him so much that, in the book New Moon, he decides to leave Forks with his family so they won't be able to hurt her. He returns, however, because he realizes he cannot live without her. Edward marries Bella in Breaking Dawn and they have a child, Renesmee.
Robert Pattinson plays Edward in the Twilight film series.
Jacob Black
Jacob Black is Bella's best friend. He is a Quileute Native American and a werewolf, later revealed to be a shape-shifter as he doesn't transform on the full moon. In Twilight, Jacob plays a minor role, being a forgotten childhood friend of Bella's. In an attempt to learn more about Cullens, Bella flirts with Jacob, and he tells her tribe legends about them being "the cold ones", or vampires. After Edward leaves Bella in New Moon, Bella spends much of her time with Jacob, trying to heal her broken heart and move on. Though at first only a friend, Jacob later falls in love with Bella. Although he spends most of his time in Eclipse trying to win Bella, in Breaking Dawn he imprints "an involuntary process in which a werewolf finds their soul mate" on Bella and Edward's daughter, Renesmee.
Taylor Lautner plays Jacob Black in the Twilight film series.
New Moon Release Party
Taylor Lautner Shirtless
Kristen Stewart on Team Jacob!