First Class Fashionista would like to invite you to shop:
Discount Designer Clothes
Discount Designer Shoes
Discount Designer Handbags
*BOOKMARK THIS SITE* Top Celebrity Gossip Blogs
What Does Victoria Beckham Eat?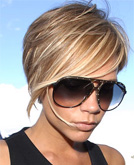 Here is where you can tell thousands of people what you think. Share a comment with thousands of visitors. *Copyright Protected. First Class Fashionista permits a direct homepage link and credit.
Everyone is talking about Victoria Beckham maintaining her weight by only eating fish and berries. In a recent interview, however, she says that she believes that she eats really healthy.
I eat really healthy, I love Japanese food, lots of fish, any sort of fish, any sort of vegetable, lots of fruit, that kind of thing.
Well, I like Japanese food too, and berries sound delicious and healthy. So why are we jealous of Victoria Beckham's body…? Aren't we green with envy when it comes to Victoria Backham's hair? And, don't forget, we also wish we had a clothing line like Victoria Beckham.
If David Beckham thinks Victoria Beckham is sexy, does it really matter?
Lastly, how much does Victoria weigh? I don't know for sure, but my sources say 97 pounds. Hmmm. A skinny bitch diet is not meant for everyone, especially not me.