First Class Fashionista would like to invite you to shop:
Discount Designer Clothes
Discount Designer Shoes
Discount Designer Handbags
*BOOKMARK THIS SITE* Top Celebrity Gossip Blogs
TAGS Boutique Grand Opening
Kandi Burruss and Business Partner Peaches Chin at TAGS Boutique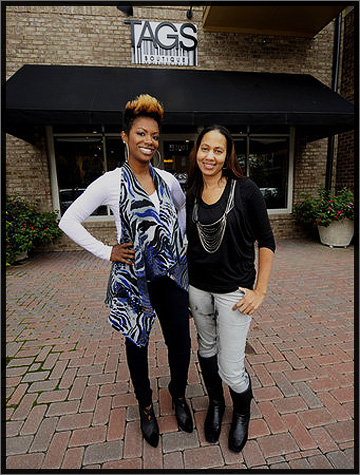 Here is where you can tell thousands of people what you think. Share a comment with thousands of visitors. *Copyright Protected. First Class Fashionista permits a direct homepage link and credit.
Real Housewives' Kandi Burruss will be celebrating the grand opening of her new clothing store TAGS Boutique in South Atlanta this week with her co-owner and good friend Peaches Chin.
The working concept for TAG Boutique is "luxury for less" and will carry both women and men's clothing.
Kandi says that "the clothes will look expensive but be affordable (unlike Jill Zarin's 16k handbag), so that fashion forward men and women can find something they like without breaking the bank". I understand that most items will be under $100.00.
Interestingly, I also hear that TAGS Boutique will carry Real Housewives Lisa Wu Hartwell's Closet Freak and Real Housewives Sheree's She by Sheree, both featured on The Real Housewives of Atlanta. -You go girls!
Kandi Buruss Tweets:
We will carry men and women's clothing. The address is 4500 West Village Smyrna, Ga. 30080, and we're tentatively scheduled to open mid-October. So come see me! Hopefully I can have both of their lines in my store hint hint. LOL!

I was at the store tonight. It looks so good & the clothes are hot! I'm excited.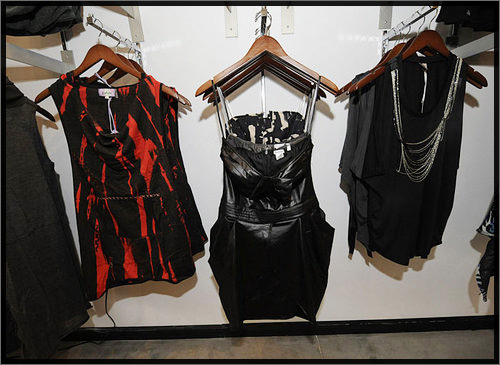 TAG Boutique Dresses
This is a bitter sweet moment for Kandi because she was unable to share it with her fiance Ashley "A.J." Jewell who died earlier this month.