First Class Fashionista would like to invite you to shop:
Discount Designer Clothes
Discount Designer Shoes
Discount Designer Handbags
*BOOKMARK THIS SITE* Celebrity Fashionista
"Sister 2 Sister Magazine": NeNe Tells [Jamie] All About What Happens in Her Bedroom- I am Not Sexual, says Real Housewives NeNe Leakes.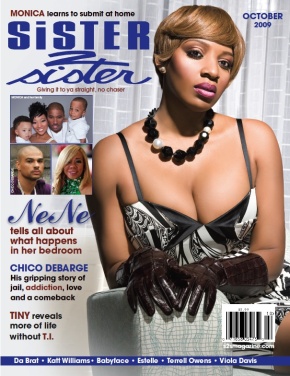 Here is where you can tell thousands of people what you think. Share a comment with thousands of visitors. *Copyright Protected. First Class Fashionista permits a direct homepage link and credit.
In the October issue of Sister 2 Sister Magazine, Nene Leaks unabashedly talks about her sex-life with her husband.
On the couch in the living room of Nene's Atlanta home, Nene tells S2S Publisher/Founder Jamie Foster Brown that she is not sexual, she has never had an orgasm and that although she knows that her husband would like to have sex 3 to 5x a week, her personal preference is only once or twice a month.
What's more interesting, however, is that this interview took place after Nene's husband danced with Jamie in the couple's kitchen- I saw the video.

Kandi Burruss' TAGS Boutique in Atlanta
Nene and Sheree Set Up Kim