First Class Fashionista would like to invite you to shop:
Discount Designer Clothes
Discount Designer Shoes
Discount Designer Handbags
*BOOKMARK THIS SITE* Celebrity Fashionista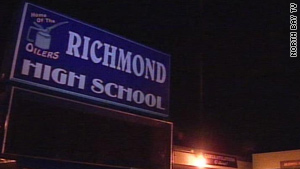 Here is where you can tell thousands of people what you think. Share a comment with thousands of visitors. *Copyright Protected. First Class Fashionista permits a direct homepage link and credit.
According to CNN, a 15-year-old girl left her homecoming dance at Richmond High School with someone she knew and was later gang raped and brutally beaten for over 2 hours on school grounds by at least 4 individuals as people watched, walked by or even participated.
Reportedly, no one called the police until someone overheard talk of the incident. It has been said that when the police arrived, they witnessed 5-6 males fleeing from the scene.
19-year-old Manual Ortega and a 15-year-old was arrested in this case.
The victim was life-flighted, unconscious and in critical condition to a local area hospital.
As of yesterday (Monday, October 27, 2009), she was in stable condition and doesn't seem to have any life-threatening injuries.
Those involved will face charges of rape, robbery and kidnapping.