First Class Fashionista would like to invite you to shop:
Discount Designer Clothes
Discount Designer Shoes
Discount Designer Handbags
*BOOKMARK THIS SITE* Celebrity Fashionista
What is the Chitlin' Circuit?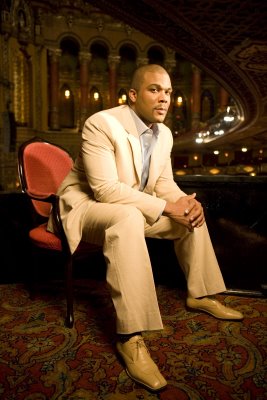 Here is where you can tell thousands of people what you think. Share a comment with thousands of visitors. *Copyright Protected. First Class Fashionista permits a direct homepage link and credit.
Admittedly, I had never heard of the Chitlin' Circuit until I was watching a 60 Minutes interview with Tyler Perry.
In this interview Tyler Perry explains, although he has had 5 films open at #1 in the box office in the past 4 years and a total of 8 films grossing approximately 418 million dollars, the average American still doesn't know who he is.
Why…? Because of something that is historically called the "Chitlin' Circuit".
We all know Tyler Perry has a "niche" audience composed of…and I quote and unquote: "African-American, church-going, working class and female".
The Chitlin' Circuit was actually the tour or the circuit that was established for African-Americans, such as Ray Charles, Billy Holiday and Duke Ellington, when they weren't allowed into white establishments.
Well, like mama always said, you learn something new everyday!
Interestingly, while conducting further research on the Chitlin' Circuit, I located a magazine called the "Chittlin Circuit".
And these are the working online definitions:
The "Chitlin' Circuit" was the collective name given to the string of performance venues throughout the eastern and southern United States that were safe and acceptable for African American musicians, comedians, and other entertainers to perform at during the age of racial segregation in the United States (from at least the late 1800s through the 1960s). The name derives from the soul food item chitterlings (stewed pig intestines) and is also a play on the term "Borscht belt" which referred to a group of venues (primarily in New York's Catskill Mountains) popular with Jewish performers during the 1940s, 50s and 60s.

Noted theaters on the Chitlin' Circuit included the Cotton Club, Wilt's Small Paradise, and the Apollo Theater in New York City, Robert's Show Lounge, Club DeLisa, and the Regal Theatre in Chicago, the Howard Theatre in Washington, D.C., the Uptown Theatre in Philadelphia, the Royal Theatre in Baltimore, the Fox Theatre in Detroit, the Victory Grill in Austin, Texas, The Hippodrome Theatre in Richmond, Virginia and the Ritz Theatre in Jacksonville, Florida.

The song "Tuxedo Junction" was written about a stop along the chitlin' circuit in Birmingham, Alabama. Once the performance was over, the band would leave for the next stop on the circuit. When the lyrics were ready to be added, Erskine Hawkins explained the reason for the title to Buddy Feyne who then created lyrics to match the meaning.

Many notable performers started on the chitlin' circuit, including Count Basie, George Benson, Cab Calloway, Ray Charles, Dorothy Dandridge, Sammy Davis, Jr., Duke Ellington, Ella Fitzgerald, The Jackson 5, Redd Foxx, Aretha Franklin, Jimi Hendrix, Billie Holiday, John Lee Hooker, Lena Horne, Etta James, B. B. King, Patti LaBelle, Bernie Mac, Moms Mabley, Tyler Perry, Gladys Knight & the Pips, Wilson Pickett, Richard Pryor, Otis Redding, Dr. Lonnie Smith, Little Richard, Smokey Robinson, Ike & Tina Turner, The Four Tops, The Isley Brothers, The Supremes, The Temptations, Muddy Waters, and Flip Wilson
A circuit of nightclubs and theaters that feature African-American performers and cater especially to African-American audiences.

When Jim Crow and segregation were even more prominent in the United States, the Negro race, freed through emancipation, did not have equal access to public White Only places. The Chitlin' Circuit – a connected string of music venues, diners, juke joints, and theaters throughout the eastern and southern United States that catered primarily to African American audiences was created.

The Chitlin' Circuit was the only option for touring Black entertainers such as Cab Calloway, Duke Ellington, Clarence Gatemouth Brown, Etta James, Billie Holiday, Ike and Tina Turner, B. B. King, Bobby Blue Bland, T.D. Bell and the Blues Specialists, Roosevelt "Gray Ghost" Williams, Eubie Blake, Robert Shaw, Big Joe Williams and many others begin touring in an effort to seek out a living when Jim Crow and segregation was even more prominent in the United States.

Historically, Baltimore was the first city on the Chitlin' Circuit. The Chitlin Circuit stretched through the South, bending Westward throughout Texas, extending Eastward on through Chicago, offering continuous opportunities for black entertainers.

Many clubs were opened specifically for the Chitlin' Circuit, such as the Historic Victory Grill in Austin, Texas. Opened in 1945, The Victory Grill's history is an integral component to the prospering of the legendary Chitlin' Circuit. A juke joint offering food, beer, jazz and rhythm and blues music and dancing, the club soon became a hot spot for locals to listen to touring Black entertainers. The Historic Victory Grill is alive and well presenting blues and jazz entertainment.
"I was traveling the chitlin' circuit when I met Johnny Holmes, the owner of the Victory Grill down in Austin Texas, who became my first road manager." B. B. King