"First Class Fashionista" would like to invite you to shop:
Discount Designer Clothes
Discount Designer Shoes
Discount Designer Handbags
*BOOKMARK THIS SITE* Celebrity Fashionista
It's Big Bird's 40th Birthday!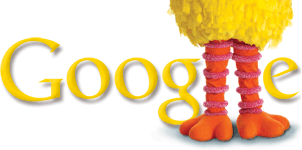 Here is where you can tell thousands of people what you think. Share a comment with thousands of visitors. *Copyright Protected. First Class Fashionista permits a direct homepage link and credit.
This is so exciting! I absolutely love "Sesame Street". Check out the Google Doodle on Google's homepage. I'm very happy to report that it's the 40th anniversary of the Children's Television Workshop's esteemed educational program, "Sesame Street". And here, in the U.S., Big Bird's legs is the Google Doodle that reminds us that it is Big Bird's 40th birthday! To celebrate, Big Bird is scheduled to make an appearance on ABC's "Jimmy Kimmel Live" tonight and don't miss Elmo and Rosita on NBC's "Late Night with Jimmy Fallon" on Monday.
Additional Special Appearances Include:
Grover, Prairie Dawn, Zoe and Cookie Monster is scheduled to co-host FOX's "Are You Smarter Than a 5th Grader?" for the entire week of the 9th.
First Lady Michelle Obama will appear on the first episode of the celebrated 40th season to teach the kids about gardening and eating healthy.
*Sesame Street first aired on November 10, 1969. A bit of trivial info: Remember the Veggie Monster? Well, the Veggie Monster helped to promote better eating habits for kids but he could not replace the Cookie Monster.