First Class Fashionista would like to invite you to shop:
Discount Designer Clothes
Discount Designer Shoes
Discount Designer Handbags
*BOOKMARK THIS SITE* Celebrity Domestic Violence Cases
"I want to give as much insight as I can to young women, because I feel like I represent a voice that really isn't heard." ~Rihanna
Rihanna Gets a Tattoo of A Gun After She Was Beaten by Chris Brown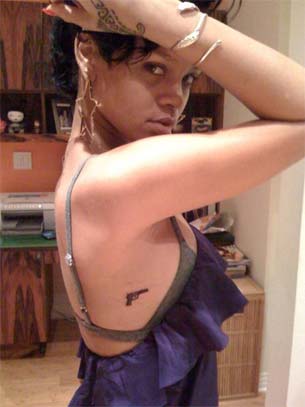 Here is where you can tell thousands of people what you think. Share a comment with thousands of visitors. *Copyright Protected. First Class Fashionista permits a direct homepage link and credit.
Has a Stronger Rihanna Emerged?
In my opinion, Rihanna does appear to be a stronger woman. And, more importantly, Rihanna has finally decided that she has the strength to share her story as a victim of domestic violence with the world. She says that if it happened to her, it could happen to anyone; and if there is a positive that has come out of the whole ordeal, is that women can learn from her situation.
Chris was my first big love. This happened to me. It could happen to anyone. I went to sleep as Rihanna and woke up as Britney Spears. That was the level of media chaos that happened the next day…

I want to give as much insight as I can to young women because I feel like I represent a voice that really isn't heard. Now I can help speak for those women.
na says that what was most humiliating, however, is the leaked photo of her badly bruised face. It is believed that this much gossiped about photo was probably leaked by a police officer.
"This is not a photo that you show to anyone. People were making it a fun topic on the internet and it's my life!"
~Rihanna
A shout out to Rihanna for being named one of the "Glamour Women of the Year"! You can read more about Rihanna in the December 2009 issue of Glamour Magazine.
Don't miss Rihanna on "Good Morning America". Don't miss Rihanna on 20/20.