First Class Fashionista would like to invite you to shop:
Discount Designer Clothes
Discount Designer Shoes
Discount Designer Handbags
*BOOKMARK THIS SITE* Celebrity Fashionista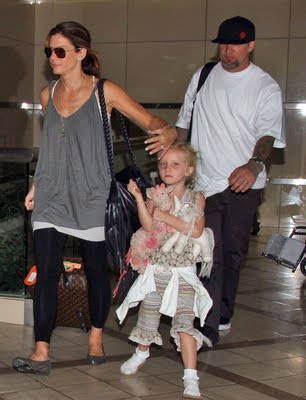 Here is where you can tell thousands of people what you think at First Class Fashionista. Share a comment with thousands of visitors. *Copyright Protected. First Class Fashionista permits a direct homepage link and credit.
Reportedly, Sandra Bullock and reality show biker husband, Jesse James, are in the process of seeking custody of Jesse's 5-year-old daughter, Sunny.
Incarcerated for six months for tax evasion, Janine Lindemulder, who is being questionably demonized in the media as an ex-porn star and B list celebrity drug addict, is out of jail and she wants her daughter back.
However, Sandra Bullock says that she is truly concerned for her step-daughter's welfare and is currently petitioning, along with Sonny's father, for court appointed custody.
~Excerpts of Sandra Bullock's Written Petition:
While in Janine's Care, sometimes Sunny is left alone during the day, while her mother is asleep from drug use.

I am aware that Janine has claimed many times that my desire to have Sunny was because I could not have children of my own…it couldn't be farther from the truth.

I myself have stopped working like I used to in order to be here with Jesse and the kids because we are constantly on high alert, never knowing what condition Janine will be in, and even more concerning, the condition the girl will be in.
Janine says that she knows that she has made some horrific mistakes in the past but she is off the drugs.
Janine Asks:
What would give her [Sandra Bullock] the right to take away my daughter…? I'm the best Mom I can be.