"First Class Fashionista" would like to invite you to shop:
Discount Designer Clothes
Discount Designer Shoes
Discount Designer Handbags
*BOOKMARK THIS SITE* Top Celebrity Gossip Blogs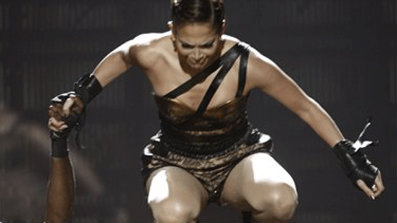 Here is where you can tell thousands of people what you think. Share a comment with thousands of visitors. *Copyright Protected. "First Class Fashionista" permits a direct homepage link and credit.
It's the day after the 2009 American Music Awards and what's everyone talking about…? "JLo's fall on stage" at the AMAs.
So during JLo's performance to her new song "Louboutin", JLo climbs on the backs of what has been described as a choreographed stair of dancers and unexpectedly loses her footing as she jumps from the back of the last dancer and dangerously but comically lands on her butt.
What's so funny about that? 40-year-old JLo (IMDB), showing no signs of injury, jumps to her feet so quick that if you blinked… Well, you probably missed it.
According to reports, JLo the perfectionist, was very upset about the mishap; but was even more angry when she found out that her, much talked about, "JLo falls on stage at the AMAs" was edited out of the West Coast airing.
~MTV
"The fall came after Lopez walked up the backs of five of her dancers, who were arrayed like a set of steps. As jumped off the back of the top "step," her feet slid under her and she fell on her bottom. Always a pro, though, Lopez jumped right up and played it off as she segued into a solo dance spotlight, busting some moves as the phrase "The champ is here" played over the thumping beat. "
~Fox News
Lopez attempted a dramatic move, jumping off the back of one of her dancers, but it ended in disaster she fell flat on her backside.
The 40-year-old was quick to bounce back onto her feet and resume a solo dance sequence as the audience let out a very loud gasp and a little laughter…
Lopez was so livid that Dick Clark Productions (who put together the show) edited out the fall from the West Coast airing of the show, which wasn't live. Instead of showing the tumble, they showed JLo jumping mid-air in slow motion before quickly cutting to her in a solo sequence.
The question is:
Was the "JLo Falls on Stage at AMAs" a choreographed part of the "Louboutin" performance?
No. I don't think so.
Interestingly, however, People.com reports that Jennifer Lopez has jokingly admitted on "On-Air with Ryan Seacrest" on radio station 102.7 KIIS FM that she meant to fall.
~People.com
That little pratfall that Jennifer Lopez took at the American Music Awards?
All part of the plan.
That's what a laughing Lopez told Ryan Seacrest on his KIIS-FM radio show the day after the slip that became water-cooler talk in offices around the country.
"Did I trip a little bit? I don't even remember," Lopez, 40, joked on Monday morning. "Yeah, I meant to do that. That was part of the choreography."