"First Class Fashionista" would like to invite you to shop:
Discount Designer Clothes
Discount Designer Shoes
Discount Designer Handbags
*BOOKMARK THIS SITE* Top Celebrity Gossip Blogs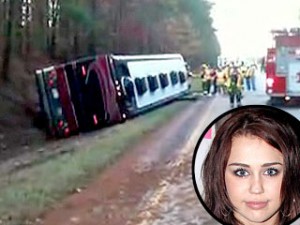 Here is where you can tell thousands of people what you think. Share a comment with thousands of visitors. *Copyright Protected. "First Class Fashionista" permits a direct homepage link and credit.
On Friday, November 20, 2009, one of four of Miley Cyrus' tour buses turned over just outside of Richmond, Va. Miley Cyrus was not on the bus. She was actually visiting her family in Nashville, Tennessee before continuing her tour in Greensboro, N.C. One person was reported dead, and others were injured. The cause of the crash is still being investigated. Sad. 🙁 Tell us what you think.
~E! Online
UPDATE 1: The Cyrus family has issued a statement responding to this morning's tragedy on Miley's official site:
"We are deeply saddened by the loss of Bill 'Uncle Bill' Douglas. Members of our tour are like members of our family. Our thoughts and prayers go out to his family in the midst of this tragedy. He will truly be missed."
________
One person is dead and at least one more suffered minor injuries after one of Miley Cyrus' tour buses crashed and flipped onto its side in Virginia this morning.
Miley Cyrus herself was not on board the bus at the time; the Disney [Star] has primarily been jetting to tour dates on a private plane for much of this tour.
"She was not on any of the buses and not on scene at any point," Virginia State Police Sgt. Thomas Molner told E! News. "She was on a different route."
The driver of the bus, whose identity has not been released, is the sole fatality.
"There were 10 people on board the bus that crashed and one is a fatality," Molner said. "One is a minor injury and that person was transported to Southside Regional Hospital in Petersburg."
The crash took place around 8:15 a.m. in the town of Dinwiddie, roughly 40 miles south of Richmond. While the cause of the fatal accident is not yet known, Virginia State Police confirm that the roads were wet at the time.
The bus was en route to Greensboro, N.C., where Cyrus' next concert is scheduled to take place Sunday night.
"They were coming from Nassau, N.Y.," Molner said. "Currently they are clearing up the scene and the other buses have left and gone to another location."
~Huffington Post
The driver of a Miley Cyrus tour bus was killed Friday when the bus overturned, but the 16-year-old "Hannah Montana" star wasn't on board, Virginia State Police said.
Sgt. Thomas Molnar said the bus ran off the left side of Interstate 85, struck an embankment and overturned. The accident occurred around 8:15 a.m. in Dinwiddie County, about 40 miles south of Richmond. Speed and weather weren't considered factors.
The driver, William G. Douglas, 53, of Austin, Texas, died at the scene, police said.
Marty Zilio, 48, of Canada, was injured in the crash and treated at a local hospital. He was one of nine members of Miley Cyrus' production crew who were riding in the bus. They escaped the crashed bus through the front windshield.
Miley Cyrus' family said on her Web site that they were "deeply saddened by the loss of Bill 'Uncle Bill' Douglas" and that he would be missed.