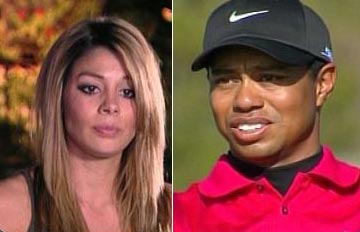 Here is where you can tell thousands of people what you think. Share a comment with thousands of visitors. *Copyright Protected. "First Class Fashionista" permits a direct homepage link and credit.
In an interview with "US Weekly", San Diego Waitress and "VH1 Tool Academy" Star Jaimee Grubbs says her affair with Tiger Woods lasted for over 2 1/2 years and that their last rendezvous was last October at the Island Hotel in New Port Beach, California. Jaimee says she met Tiger in a Las Vegas nightclub in 2007 and shortly thereafter they began meeting in different hotels and that they were to never be seen in public.
According to Jaimee, when Tiger wanted to see her, he would send her "racy text messages" like "Send me something very naughty. Go to the bathroom and take a picture." She says that she was shocked to find out about Rachel Uchitel because she thought she was the only one.
A very naive Jaimee tells US Weekly that Tiger would say he didn't have time for other woman.