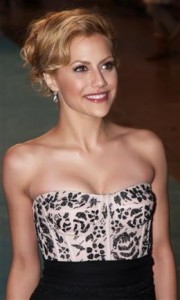 Actress Brittany Murphy died of cardiac arrest at age 32, early Sunday morning. Her mother found her unconscious in the shower around 8 a.m.
I remember Brittany Murphy in some of my favorite movies, like Clueless, Uptown Girls, and The Little Black Book.
Brittany was already very sick before her death. Reports say that she had type 2 diabetes and was taking prescription medication for flu like symptoms.
But is Brittany's husband Simon Monjack hiding something? Reports say that Simon Monjack strongly opposes the Los Angeles County Coroner's office's decision to perform an autopsy on Brittany Murphy.
Celebrity Tweets about Brittany Murphy's Death:
"My deepest condolences go out to all of Brittany Murphy's loved ones & may she rest in peace. She was a great talent with a beautiful soul. XO." -Lindsay Lohan

"Brittany Murphy was an incredible ray of Light to so many people. My prayers are with her family and loved ones." -Jessica Simpson

"2day the world lost a little piece of sunshine. My deepest condolences go out 2 Brittany's family, her husband, & her amazing mother Sharon, see you on the other side kid." -Ashton Kutcher (Brittany Murphy's ex boyfriend)

"I met britney murphy before her star rose, it's tough to find peace in fame. I wish her peace and happiness in her next lifetime." -Russell Simmons
From the "First Class Fashionista" family, we send our sincere and deepest condolences to Brittany Murphy's family, friends and fans.
Here is where you can tell thousands of people what you think. Share a comment with thousands of visitors. *Copyright Protected. First Class Fashionista permits a direct homepage link and credit.