America's Next Top Model and BET's Toccara Jones was spotted at the Denver Nuggets vs. Philadelphia 76ers NBA game in Denver, Colorado on January 3, 2010.
Toccara poses with a fan in Blue Sky Grill at the Pepsi Center in Denver, Colorado.
It was a pleasure to meet Toccara Jones. I find Toccara to be very approachable and even more beautiful in person. She definitely has star quality. Good luck Toccara! Your fans are watching you. Work hard and don't give up. You got "it" girl!
*BUT, Toccara, what your fans really want to know is: Who are you dating…? A Nuggets or a 76er? Drop us a line or two. Who's your boyfriend? What's the 411?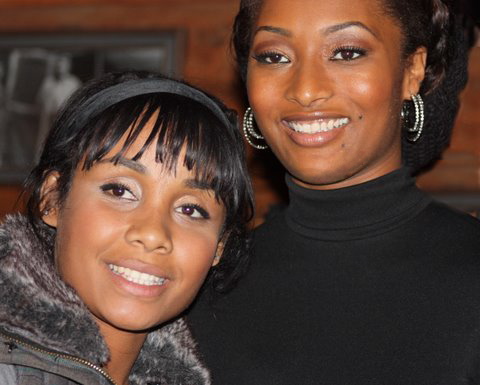 Here is where you can tell thousands of people what you think. Share a comment with thousands of visitors. *Copyright Protected.
First Class Fashionista permits a direct homepage link and credit.
First Class Fashionista would like to invite you to shop:
Discount Designer Clothes
Discount Designer Shoes
Discount Designer Handbags
*BOOKMARK THIS SITE for Updates* Celebrity Sightings