Is newly divorced, reality star Kate Gosselin of "Jon and Kate Plus 8" dating…? Paparazzi snapped this picture of Kate Gosselin spending the day with her New York City hairstylist, Ronnie. I hear that Kate and Ronnie even had lunch together.
But a spokesperson for Kate denies any romance between the two and says that Ronnie was out with Kate to help buy hair products to maintain Kate's new hairdo.
BTW, there is a lot of chatter about Kate landing her own TLC reality show. Check your local listings.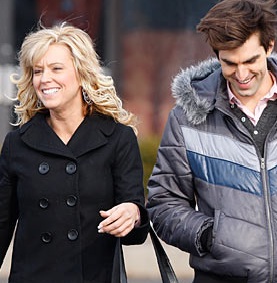 Here is where you can tell thousands of people what you think. Share a comment with thousands of visitors. *Copyright Protected. First Class Fashionista permits a direct homepage link and credit.
First Class Fashionista would like to invite you to shop:
Discount Designer Clothes
Discount Designer Shoes
Discount Designer Handbags
*BOOKMARK THIS SITE for Updates* Kate Gosselin