Olivia Wilde Poses on the Red Carpet of the 2010 Golden Globe Awards.
Olivia Wilde's red carpet hairstyle and dress at the 67th Annual Golden Globe Awards held at The Beverly Hilton Hotel in Beverly Hills, California on January 17, 2010.
Who is Olivia Wilde's 2010 Golden Globe Dress Designer?
Olivia Wilde is wearing a gown by Gucci on the red carpet of the 67th Annual Golden Globe Awards.
"I've turned this fashion moment into a fund raising moment. I'm wearing Gucci. Gucci has graciously decided to donate this dress so we can auction it off for Haiti," says Olivia Wilde.
Note: "On Jan. 12, 2010, a massive earthquake struck Haiti, reducing much of its capital to rubble. It was the worst earthquake in the region in more than 200 years, with an untold number– estimates range from 50,000 to 200,000– feared dead. The devastation created serious obstacles to those attempting to deliver promised foreign aid (The New York Times)."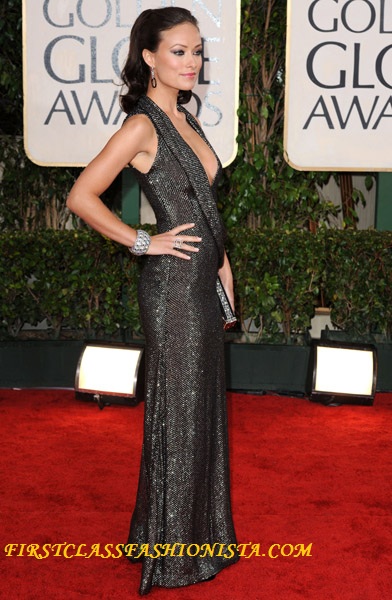 Here is where you can tell thousands of people what you think. Share a comment with thousands of visitors. *Copyright Protected. First Class Fashionista permits a direct homepage link and credit.
First Class Fashionista would like to invite you to shop:
Discount Designer Clothes
Discount Designer Shoes
Discount Designer Handbags
*BOOKMARK THIS SITE for Updates* What are they wearing?