Lil Wayne and Young Money party with guests at Zen Nightclub after attending the Denver Nuggets vs. New Orleans Hornets NBA game in Denver, Colorado on January 23, 2010.
They came to party…I came to observe and report. Well, Young Money partied and Lil Wayne texted or talked to his girl all night.
Interestingly, Zen nightclub's stage served as Young Money's VIP area. And from the stage, a member of Lil Wayne's Young Money entourage poured Grey Goose all over a white girl's head while he spat on her and rubbed his private area in her face…Nastily, and she didn't object.
I have to say, I've never seen anything like this before. It was quite disgusting.
Have you ever heard "New *hit" by Young Money? This song talks about spitting on B words. Listen to it and tell me what you think.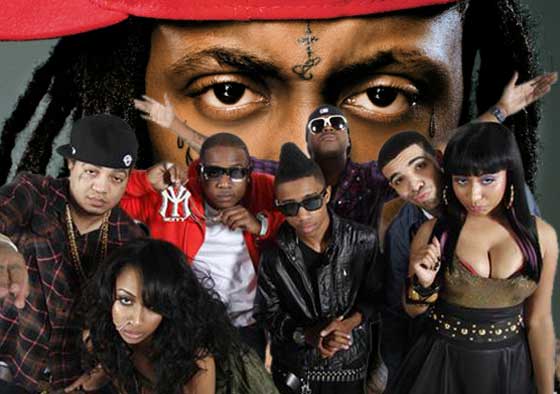 Note: I heard Denver Nuggets Player J.R. Smith is a silent Young Money partner. Here is where you can tell thousands of people what you think. Share a comment with thousands of visitors. Hot or Not? *Copyright Protected. First Class Fashionista permits a direct homepage link and credit.
First Class Fashionista would like to invite you to shop:
Discount Designer Clothes
Discount Designer Shoes
Discount Designer Handbags
*BOOKMARK THIS SITE for Updates* Lil Wayne and Young Money in Denver