Wendy Williams Talks Wedding Ring Bling with LaLa Vasquez.
I decided to write about Wendy Williams' wedding ring bling a while back- when I learned that it was actually real. You see, when the "Wendy Williams Show" first aired I noticed the rock on Wendy Williams' finger and I turned to my husband and said, "Wow look at that ring." He said it wasn't real…But I wondered out loud why would Wendy wear a fake ring, especially on TV.
Then one day a guest complimented Wendy on her wedding ring and Wendy said (as she pointed in the direction of the audience), "Thank you. He's out there somewhere."
I knew it was real! I knew it was real! I knew it was real!
So just the other day, Wendy Williams did an interview with LaLa Vasquez in which Wendy asked LaLa why she has been spotted around town not wearing her engagement ring. Side note: LaLa is engaged to Carmelo Anthony and they plan to get married this summer in New York (July 10,2010 Update: LaLa and Carmelo Anthony are married).
Anyway, LaLa had a laundry list of reasons why she doesn't wear her ring all the time, but more importantly LaLa stops short and turns the table on Wendy and says something like, "Look at your ring. Everyone wants to talk about your ring". And I'm like yeah let's talk about Wendy's ring. So let's talk about Wendy's ring. Here's what I jotted down on the day I found out Wendy Williams' wedding ring bling was in fact real: Wendy Williams' wedding ring bling is real icy, hecka tight and I want it. I love it. Wendy seems to do everything big. She said "he" bought it- I'm guessing, the hubby. Wendy always tells the story about how she got married in a court house in a Khol's skirt, but the bling is off the chain. I'd rather spend the money on the bling too. The ring lasts a lifetime- forget the wedding.
Now, after all that, I'm sure you want to know how many carats is Wendy Williams' wedding ring? Here's an excerpt from the LA Times:
"I've been married for 10 years. It's a 7-carat stone. The stone originally was maybe 3 carats, but he replaced it in our seventh year. And as I was pregnant, my fingers started to grow, so I got a second band so that I would not have to be this statistic — you know, black woman, no man, no marriage. And to each his own, how people want to live! But I like being a couple, and I'm proud to be married for 10 years," says Wendy Williams.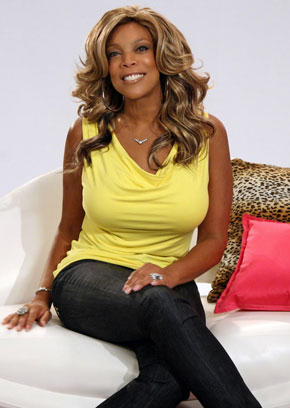 Here is where you can tell thousands of people what you think. Share a comment with thousands of visitors. Hot or Not? *Copyright Protected. First Class Fashionista permits a direct homepage link and credit.