-Good luck Whitney! I'm a fan.
Whitney Houston Brisbane Concert Reviews
Everyone seems to be talking about Whitney Houston's comeback performance in Brisbane, Australia. And the talk isn't good. According to reports, Whitney Houston's concert performance in Brisbane on Monday, February 22nd was a bust.
Concert-goers are less than satisfied with Whitney's performance. In fact, Whitney's Brisbane fans are said to be very angry. They say Whitney was often out of breath and excessively sweaty during her performance. Now they want their money back.
National Ledger Excerpt:
"Whitney Houston gave a show in Sydney and fans walked out after what they says was a disappointing performance. "It's terrible. I have never walked out before a concert finished, but that was just terrible," fan Bernadette Latta told the Australian media…
She added that the ticket was $200 and was a Christmas gift from her son. "I'll be suggesting my son tries to get a refund."
~The Vancouver Sun Excerpt:
"Following her [Whitney Houston] Monday (Feb. 22) night Australian tour curtain-raiser at the Brisbane Entertainment Centre, questions have been raised about Houston's abilities to still cut it on the biggest stage. And some disappointed ticket-holders are demanding a refund."
Why Whitney Houston's Brisbane, Australia Fans are Angry:
1. Whitney Houston's wardrobe.
Whitney came on stage in a trench coat but it's summer in Australia with temperatures somewhere around 90°.
2. Whitney Houston's breathless performance.
3. Whitney Houston's excessive sweating—even after the removal of the trench coat.
4. Whitney Houston breaks after the second song to recover.
5. Whitney Houston's coughing during the performance.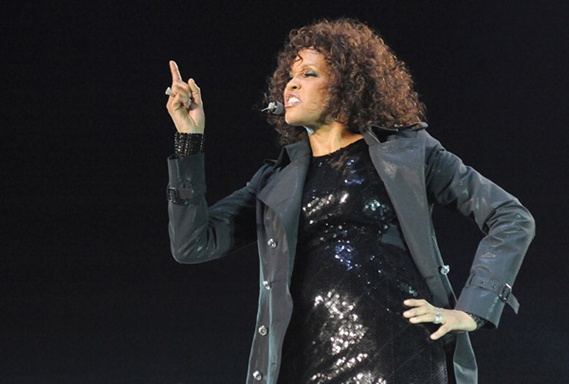 Here is where you can tell thousands of people what you think. Share a comment with thousands of visitors. Hot or Not? *Copyright Protected. First Class Fashionista permits a direct homepage link and credit.