In a recent interview with "The Sun", Lindsay Lohan finally admits that she hit rock bottom. But does it help that Lindsay still blames her dad, Michael Lohan, for her drug addiction?
"I was only aware of cocaine because of my dad. I was terrified of it but I tried it because I was stubborn, stupid and wanted to see what it was like (Lindsay Lohan).
Lindsay Lohan has taken the first step in admitting that she has a problem but Lindsay still seems very angry with her dad for going public to expose her deadly addiction to prescription drugs.
So is the addiction still speaking for Lindsay?
"When my father was going public that's when I hit rock bottom. I tried to mask my problems with alcohol, cocaine and mind-altering substances (Lindsay Lohan)."
Michael Lohan Exposes Lindsay Lohan's Prescription Drug Abuse (October, 2009):
I'm going to get her [Lindsay Lohan] off the prescription drugs that she's on. I hate it when people talk about illegal drug abuse because it's not just drinking and illegal drugs that kill you. Prescription drugs can destroy and kill a person and are sometimes harder to stop. Look at Heath Ledger Michael Jackson.

You know why Lindsay's not acting in feature films right now? Because she can't. Because the girl with all the talent is hidden and buried deep inside this fungus that's grown because of the prescription drugs. She can't be herself. When you hug her she's like, vacant inside. When she kisses or holds me I get chills, and not in a good way-in a bad way.

I don't care what anyone says about Lindsay. The Lindsay Lohan I lived with when I was married was a focused, intelligent, gifted girl that needed no prescription medication, no assistance from a therapist. Whoever the people are that came into her life and convinced her otherwise should be thrown in jail, because they're the same type of people who are responsible for the deaths of Heath Ledger, Michael Jackson and DJ AM.
Now Lindsay has decided to confess to "The Sun" that she checked herself into rehab following what she says was a very scary episode involving the prescription drug Ambien.
"I went to rehab three times. The first time I checked myself in because I had taken Ambien. It's a sleeping aid but it makes you hallucinate. I had run a bath and fallen asleep on the floor and the bath had over-flowed. When I woke up I was so scared, I called my therapist and said, 'Can I just go somewhere for a month' (Lindsay Lohan)."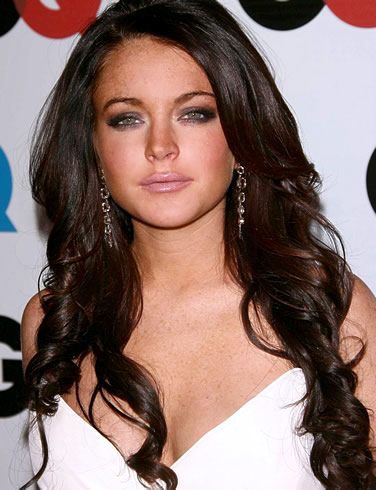 Here is where you can tell thousands of people what you think. Share a comment with thousands of visitors. Hot or Not? *Copyright Protected. First Class Fashionista permits a direct homepage link and credit.
First Class Fashionista would like to invite you to shop:
Discount Designer Clothes
Discount Designer Shoes
Discount Designer Handbags
*BOOKMARK THIS SITE for Updates* Celebrity Rehab