What Miley Cyrus Says About Leaving Hannah Montana
In a recent interview, Miley Cyrus says leaving Disney Channel's Hannah Montana is bitter sweet. Miley explains that Hannah Montana has been a part of her life for so long that it makes it difficult, but she says she is excited to move on to new things.
~Showbiz Tonight Excerpt
"I want to always challenge myself and always do different things- Things that make me happy and things that make other people happy; but never get stuck in a rut. I just always want to move on and have new challenges.
It's bitter sweet [leaving Hannah Montana]. I'm ready to move on, but it's difficult when something has been a part of your life for so long. But I'm excited to move on to new things (Miley Cyrus, 2010).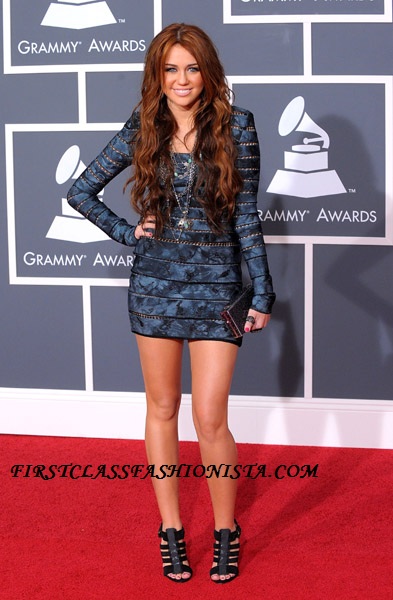 Here is where you can tell thousands of people what you think. Share a comment with thousands of visitors. Hot or Not? *Copyright Protected. First Class Fashionista permits a direct homepage link and credit.
The Photo: Miley Cyrus is on the Red Carpet of the 2010 Grammy Awards.
Who is Miley Cyrus' 2010 Grammy Awards Dress Designer?
Miley Cyrus is wearing a Hervé Léger by Max Azria dress accessorized with Ofira jewelry on the red carpet of the 52nd Annual Grammy Awards held at Staples Center in Los Angeles, California on January 31, 2010.
Note: I love this dress. Miley Cyrus is one of the 2010 Grammy Awards best dressed. The look is simple and age appropriate.

First Class Fashionista would like to invite you to shop:
Discount Designer Clothes
Discount Designer Shoes
Discount Designer Handbags
*BOOKMARK THIS SITE for Updates* Miley Cyrus Leaving Hannah Montana