FirstClassFashionista would like to invite you to shop: DesignerClothes@FirstClassFashionista
DesignerShoes@FirstClassFashionista
DesignerHandbags@FirstClassFashionista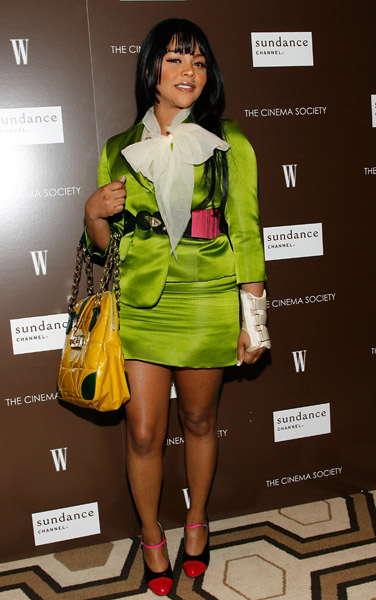 Lil' Kim attends the Cinema Society and W magazine's Special Screening of "Marc Jacobs & Louis Vuitton" on January 31st, 2007 in New York City. Suited in an almost lime green colored skirt suit, I too wondered if this were really a photo of Lil Kim. My fellow bloggers suggest that she has had some work done. Why did she and her stylist accessorize her green suit with a banana-yellow over sized handbag and red and black shoes with a pink ankle strap? P.S I didn't notice the cast until the article was published. Oh yeah, love the hair!
Is Tyra Pregnant
America's Next Top Model Overseas Locations
For Those About to Walk
Paulina Porizkova Modeling Tips
Tyra's Runway Tips
If You Can't Make It Here Elimination
Jade, Danielle, and Furonda Under the Dryer
House of Pain
The Winner Of America's Next Top Model Receives
Tyra's Modeling Tips
Jaslene the New Face of Lot29
Viewer's Recap, Quiz, Quotes
If You Can't Make it Here Elimination
Discount Paige Premium Denim Featured on The Tyra Show
Jay Manuel and Christian Siriano at The Library at Buddakan in New York City