Dakota Fanning still looks like our little angel; but dishearteningly she seems to be on the verge of rebelling. In a recent interview, Dakota expresses her resentment towards her mom. Dakota believes her mom kept her in a cage and resents her mom because she made her sign a contract stating that she will not drink, smoke or get a tattoo.
Now Dakota Fanning wants a tattoo and guess who her role model is? Dakota Fanning says her role model is Kat Von D. What? Really Dakota? I've been a fan since you were a wee child. Stay out of trouble. Some good girls don't have to go bad. Your fan base loves you just the way you are. Soon you will discover that Mom is right. Respect!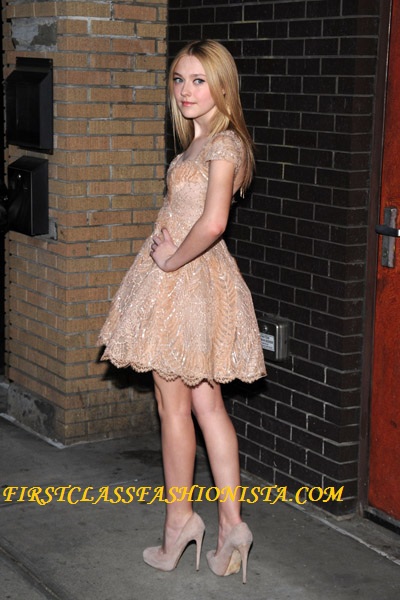 Here is where you can tell thousands of people what you think. Share a comment with thousands of visitors. Hot or Not? *Copyright Protected. First Class Fashionista permits a direct homepage link and credit.

First Class Fashionista would like to invite you to shop:
Discount Designer Clothes
Discount Designer Shoes
Discount Designer Handbags
*BOOKMARK THIS SITE for Updates* Troubled Child Stars
The Photo:Dakota Fanning at the premiere of "The Runaways".
Dakota Fanning's hairstyle and dress at the premiere of "The Runaways".
Who is Dakota Fanning's "The Runaways" Premiere Dress Designer?
Dakota Fanning is wearing Elie Saab at the premiere of "The Runaways" held at Landmark Sunshine Cinema in New York City on March 17, 2010.