In Erykah Badu's Window Seat video, Erykah strips away her clothing as she walks down the street where John F. Kennedy was assassinated to attempt to speak to today's oppression of the individual.
Erykah Badu recites the poem below when she is shot in the back for walking down the street naked.
"They play it safe. Are quick to assassinate what they do not understand. They move in pacts, ingesting more and more fear with every act of hate on one another. They feel most comfortable in groups, less guilt to swallow. They are us, this is what we've become, afraid to respect the individual. A single person, or event, or circumstance can move one to change, to love our self, to evolve (Erykah Badu, Window Seat Poem)."
Eryka Badu says she did this video to conquer some of her own fears and to be liberated.
"Window Seat is a song about being liberated from, I think mostly, yourself. The whole, overall theme of the album New Amerykah Part Two: Return of the Ankh is, out my mind just in time. I don't know where it came from, but it just popped into my mind as I was working this whole piece, including the video, and the art work for the whole album; everything kind of fell under that umbrella, out my mind just in time. The video, it provides a compliment to it. It is pretty controversial, I guess people would say that. In the video, I shed a lot of emotion and a lot of baggage by way of shedding clothing. And I do this in the middle of a busy street; which is totally, probably, something that is not accepted in society. Thus, definitely, not conforming to what society would expect you to do and because the world is, I guess 85 percent of the world is, a part of what we would call group think, that's like a form of thinking that causes you to bury what you really feel inside to please the group so that you won't be ostracized by the group. It's a comfort zone we create for ourselves and I go outside of that comfort zone and the video says everything. It's open for discussion and all I wanted to do was, I think Martin Luther King Jr. said, 'I don't want to save the world, I just want to be it's moral conscience', and this is my idea of doing that (Erykah Badu, WSJ)."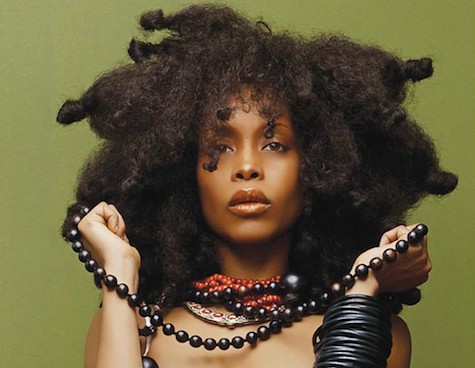 Here is where you can tell thousands of people what you think. Share a comment with thousands of visitors. Hot or Not? *Copyright Protected. First Class Fashionista permits a direct homepage link and credit. Bookmark me or subscribe to my newsletter for updates.

First Class Fashionista would like to invite you to shop:
Discount Designer Clothes
Discount Designer Shoes
Discount Designer Handbags
*BOOKMARK THIS SITE for Updates* Erykah Badu's Window Seat Poem