Reportedly, Heidi Montag has written a screenplay about her 3D breasts saving a town from a shark attack. Heidi Montag's screenplay has already been purchased by an independent film company. The script is said to go into production in June of 2010.
"I am making the first 3-D beach comedy about a shark that attacks a small beach town and I save the day with my 3-D boobs. I've even written a role for Dolly Parton to play the town mayor(Heidi Montag, People Magazine)!"
Will Heidi Montag get bigger breasts to star in her new film?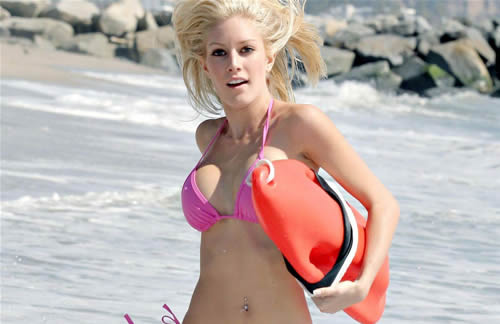 Here is where you can tell thousands of people what you think. Share a comment with thousands of visitors. *Copyright Protected. First Class Fashionista permits a direct homepage link and credit.

First Class Fashionista would like to invite you to shop:
Discount Designer Clothes
Discount Designer Shoes
Discount Designer Handbags
*BOOKMARK THIS SITE for Updates* Screenplays Written by Celebrities