We all remember how Desperate Housewives' Edie dies, her car hits a telephone pole, she steps out and gets electrocuted. Well, it seems, there might be more to this story.
Nicollette Sheridan has reportedly filed a lawsuit for $20 million against the executive producer of Desperate Housewives, Marc Cherry, for assault and battery and retaliatory termination. ABC is also named in this lawsuit.
According to Nicollette Sheridan, when she questioned boss Marc Cherry about a Desperate Housewives script, he became angry, slapped her across the face and soon after she reported the incident to ABC, Marc Cherry purportedly retaliated by writing her character out of the show.
The incident allegedly occurred on the set of Desperate Housewives, located at Universal Studios, Los Angeles California.
ABC Released the Following Statement~
"While we have yet to see the actual complaint, we investigated similar claims made by Ms. Sheridan last year and found them to be without merit (ABC)."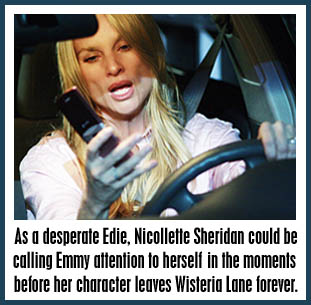 First Class Fashionista is where you can tell thousands of people what you think. Share a comment with thousands of visitors at First Class Fashionista. *First Class Fashionista is Copyright Protected. First Class Fashionista permits a direct homepage link and credit.
First Class Fashionista would like to invite you to shop:
Discount Designer Clothes
Discount Designer Shoes
Discount Designer Handbags
*BOOKMARK THIS SITE for Updates* Celebrity Lawsuits