FirstClassFashionista would like you to shop: DesignerClothes@FirstClassFashionista
DesignerShoes@FirstClassFashionista
DesignerHandbags@FirstClassFashionista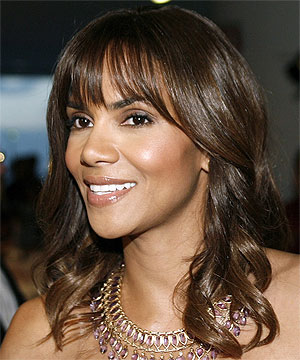 Berry was born in Cleveland, Ohio on August 14, 1966 to an African-American father and a mother of British ancestry. She attended Bedford High School, where she was a popular and active student, participating in cheerleading, editing the school newspaper, and serving as class president and prom queen. She attended Cuyahoga Community College, and began a successful modeling career immediately after high school. Halle Berry was a successful beauty queen during this period, and among other honors was the 1986 Miss USA first runner-up. Academy Award winner Halle Berry is a talented and respected actress. From her early work in films like Jungle Fever to her Oscar-winning turn in Monster's Ball and her role as Storm in the trilogy, Berry has proven herself to be a versatile and hard-working performer. In addition to her very long list of accomplishments, Halle Berry has taken on her lifetime role starring as a new mommy. On March 16, 2008 Halle Berry beacame a mother to a beautiful baby girl, Nahla Ariela Aubry. Firstclassfashionista would like to congratulate Halle Berry on her new arrival.