Protection Here is ME and Ali from Our Pathological, Lying Ex-father, Tweets Lindsay Lohan
Lindsay Lohan Cries for Help on Her Twitter Page!
Lindsay Lohan just took to her twitter page to tell the world that this time it's not her fault. She says dad Michael Lohan brought cops to her apartment in L.A. today and the apartment was allegedly searched without a warrant.
The story is, Michael Lohan was checking on Lindsay's sister, Ali Lohan. But Lindsay Lohan tweets that Ali is being homeschooled because of her dad.
Help Lindsay Lohan Before It's Too Late
Lindsay Lohan may be out of control but what's really driving this behavior? I think Lindsay's behavior is absolutely the outward expression of a dysfunctional family. I took a look at Lindsay's twitter page and she is definitely crying out for help. Lindsay is not solely to blame for what's wrong with the Lohan family, especially if what Lindsay says is true.
Lindsay Lohan tweets that Michael Lohan tried to kidnap her from a courthouse when she was only four years old and has even threatened to kidnap and kill her in front of her friends.
Lindsay Lohan believes she is here to protect Ali. Give Lindsay Lohan a break. She really doesn't deserve all the bad press. Help Lindsay before it is to late! Who owes Lindsay? Somebody owes Lindsay! -A fan.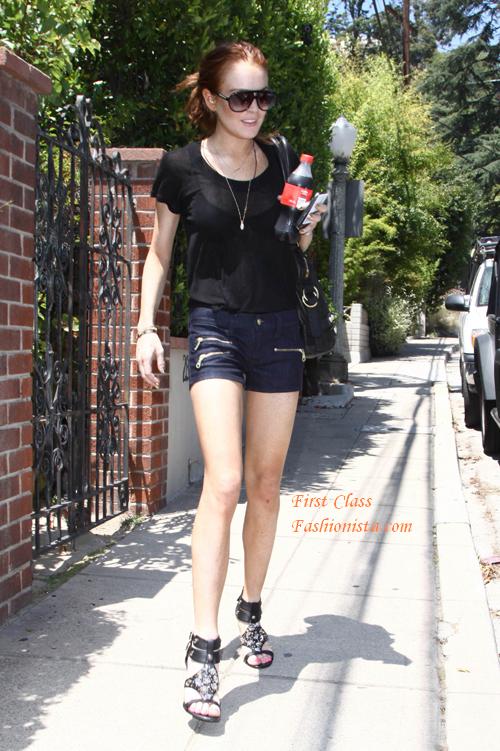 Here is where you can tell thousands of people what you think. Share a comment with thousands of visitors. Hot or Not? *Copyright Protected. First Class Fashionista permits a direct homepage link and credit.

First Class Fashionista would like to invite you to shop:
Discount Designer Clothes
Discount Designer Shoes
Discount Designer Handbags
*BOOKMARK THIS SITE for Updates* Michael Lohan Brings Cops to Lindsay Lohan's House