"First Class Fashionista" would like to invite you to shop:
Discount Designer Clothes
Discount Designer Shoes
Discount Designer Handbags
*BOOKMARK THIS SITE* Celebrity Hairstyles
America's Next Top Model Photo – Cycle 6 – Jade, Danielle and Furonda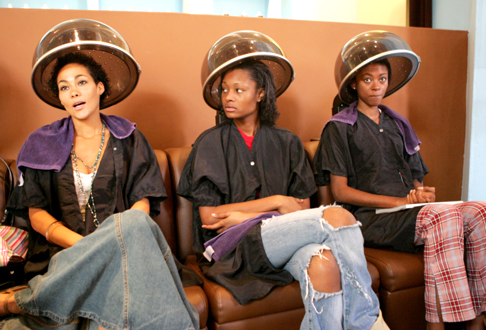 Jade, Danielle and Furonda Under the Dryer


These girls definitely need a fashionista makeover. I suppose that the hideous plaid pants, oversized skirt, and holey jeans (prominately featured in this photo) are from the girls very own personal wardrobe.
Well, I am not a contestant nor do I plan to pursue a career in modeling; but I do remember that Tyra's number one rule is to avoid taking a bad photo.
Your's Truly-A Dedicated Viewer
Is Tyra Pregnant
America's Next Top Model Overseas Locations
For Those About to Walk
Paulina Porizkova Modeling Tips
Tyra's Runway Tips
If You Can't Make It Here Elimination
Jade, Danielle, and Furonda Under the Dryer
House of Pain
The Winner Of America's Next Top Model Receives
Tyra's Modeling Tips
Jaslene the New Face of Lot29
Viewer's Recap, Quiz, Quotes
If You Can't Make it Here Elimination
Discount Paige Premium Denim Featured on The Tyra Show
Jay Manuel and Christian Siriano at The Library at Buddakan in New York City
Photo from TVGUIDE.COM