FirstClassFashionista would like to invite you to shop: DesignerClothes@FirstClassFashionista
DesignerShoes@FirstClassFashionista
DesignerHandbags@FirstClassFashionista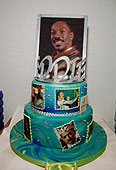 I heard that Eddie Murphy celebrated his 47th birthday at the Bank Nightclub in the Bellagio Hotel on April 11, 2008. I also hear that Eddie and his guest had a very good time. However, if you are not a celebrity, you may not want to waste your valuable "party time" attempting to get in to this establishment. In my own opinion and based on an interview with a bouncer, I believe that The Bank Nightclub (as well as Pure & Privé) attempts to create an "aura" of exclusivity by way of "isms" i.e. sexism, ageism, and (yes) racism. You may find yourself deselected and waiting in line for over an hour at The Bank Nightclub if:
1. You are not an unescorted female
2. Your skirt does not fall just below your butt
3. You are not twenty-something
4. You are not a friend of someone who works at the club
5. You are not White or Asian
* If you do choose to stand in line at the Bank Nightclub and consequently help promote the club's false sense of "Where Status is Everything" exclusivity image, you may find that the DJ's dance floor playlist does not coincide with the R&B and Hip-Hop genre selections being played at the entrance of the club. However, if you are just dying to dance the night away to "Jessy's Girl," I Love Rock N' Roll" or "Faith," the Bank Nightclub may be well worth the wait…the exclusion… or the inclusion! I personally recommend that you check out Club Moon at the Palms Las Vegas- Where, unlike The Bank Nightclub, Pure and Privé, class and personal style is everything. Tell our visitors what you think. Leave a comment.