Zac Efron is sick? An Insider's Story Tip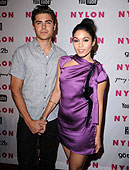 According to a tip received at First Class Fashionista, High School Musical and 17 Again star Zac Efron may be very sick and has been successful at hiding his illness from the general public.
The unidentified source says Zac Efron's illness is an inside story that not many people know about but the anonymous tipper says there is sure proof that Zac Efron is sick.
According to the unidentified insider, it is important to notice that Zac Efron hasn't been making many public appearances lately and when Zac and girlfriend Vanessa Hudgens attended the L.A. Family Housing Gala, Vanessa sipped on wine while Zac only drank water that night.
Zac Efron has allegedly been receiving treatment at a medical facility in Beverly Hills and he was recently photographed by the paparazzi as he left the Santa Clarita hospital in April of 2010.
Interestingly, Vanessa Hudgens has also been seen making trips to the pharmacy.
Note: In January of 2008, Zac Efron had his appendix removed at Cedars-Sinai medical Center in Los Angeles, California.
Here is where you can tell thousands of people what you think. Share a comment with thousands of visitors at First Class Fashionista. Is this First Class Fashionista story Hot or Not? *First Class Fashionista is Copyright Protected. First Class Fashionista permits a direct homepage link and credit.

First Class Fashionista would like to invite you to shop:
Discount Designer Clothes
Discount Designer Shoes
Discount Designer Handbags
*BOOKMARK THIS SITE for Updates* Pregnant Celebrities