FirstClassFashionista would like to invite you to shop: DesignerClothes@FirstClassFashionista
DesignerShoes@FirstClassFashionista
DesignerHandbags@FirstClassFashionista
*BOOKMARK THIS SITE*
Chris Brown Arrested on Assault Charges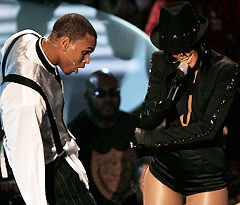 According to a recent article, a member of the paparazzi was first assaulted and then his camera was seized by Chris Brown's bodyguard when the photographer relentlessly "snapped" photos of Chris Brown and Rihanna during Chris' 19th birthday party. Did the photographer deserve to be beat up for not allowing Chris and Rihanna the freedom to have a good time? Or was the photographer an unforeseen threat to either Rihanna or Chris? Tell our visitors what you think. Leave a comment.