Sandra Bullock Kisses Scarlett Johansson
Sandra Bullock accepted the MTV Generation Award for her outstanding body of work as an actress.
"Is that an award for old people who have extended their welcome and should make nice and leave so someone new can come in? Because that's not going to happen. I'm staying.
I'm staying no matter what you seen, heard or read. I love what I do," says Sandra Bullock.
While on stage, Sandra Bullock kissed Scarlett Johansson in a desperate plea for everything to get back to normal.
"Now that we have done that, let's get back to normal because therapy is very expensive. Go back to making fun of me. I don't care," says Sandra Bullock.
I respect Sandra Bullock's more than tactful request to allow her to move on from husband Jesse James' cheating scandal. Therapy is very expensive and Sandra Bullock needs to be healthy for baby Louis.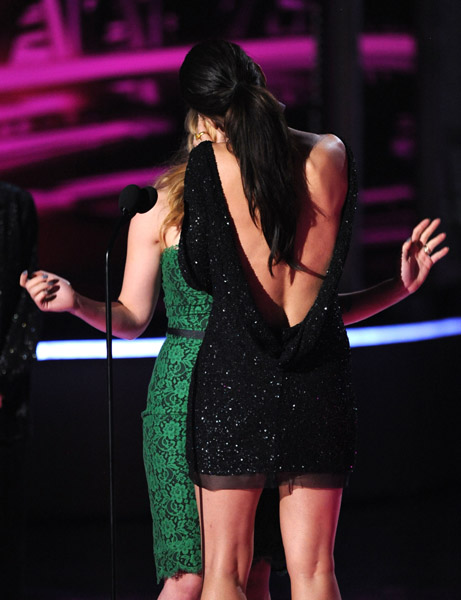 Here is where you can tell thousands of people what you think. Share a comment with thousands of visitors at First Class Fashionista. Is this First Class Fashionista Hot or Not? *First Class Fashionista is Copyright Protected. First Class Fashionista permits a direct homepage link and credit.

First Class Fashionista would like to invite you to shop:
Discount Designer Clothes
Discount Designer Shoes
Discount Designer Handbags
*BOOKMARK THIS SITE for Updates* Sandra Bullock and Scarlett Johansson Kiss