The Los Angeles Lakers did it again. Thursday, June 17, 2010, the Lakers ended their season with an 83-79 victory in Game 7 of the 2010 finals playoff series against the Boston Celtics. At the end of the 3rd quarter the Lakers were trailing the Celtics by 13 points and returned with a great defense against the Celtics which gave the Lakers their 16th NBA title and a back to back championship for the Lakers.
To top off their celebration and victory, the infamous Laker Parade was held this past Monday in Los Angeles, CA where thousands of fans came out bright and early lining a two-mile route from the Staples Center to the Galen Center at University of Southern California. Pau Gasol, Derek Fisher, Kobe Bryant, Andrew Bynum, and Ron Artest waved to cheering fans from an 18 wheeler flatbed.
Whether you are a fan of Kobe Bryant or not, statistically it is undeniable that Kobe Bryant led the way for his team in the 2010 finals playoff games. Although Game 7 against the Celtics was not his best, Kobe Bryant averaged 29.2 points per game, 6 rebounds per game, and 5.5 assists per game in the playoffs and was thus named MVP. Receiving the Bill Russell (Finals MVP) award made it Kobe Bryant's second consecutive finals MVP award after earning it in 2009 against the Orlando Magic.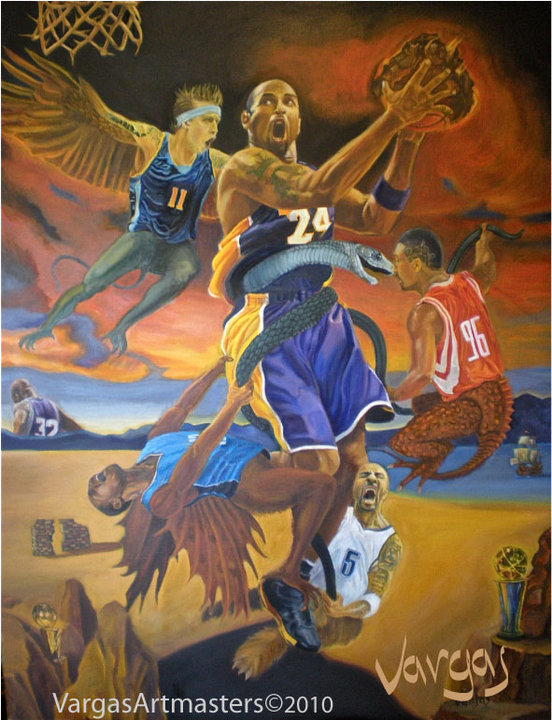 Kobe Bryant Artwork: Defeating the Demons by Luis Antonio Vargas
As Orange County Artist, Luis Antonio Vargas, painter of "Defeating the Demons", imagined and artistically described Kobe Bryant, The Black Mamba, was successful once again in defeating the demons or star players in the other teams. "Defeating the Demons" is one of the most unique and original pieces of art that highlights Kobe Bryant's career against that of his opponents as well as past and present teammates. The painting which is shown above shows the Black Mamba rising above nuggets player Chris Andersen (The Birdman), Orlando Magic's Dwight Howard, Ron Artest (when he played for Houston), and Utah Jazz's Carlos Boozer. The painting also shows Shaq turning and leaving Kobe behind to fend for himself as number 16, Pau Gasol, comes in on a ship as a lifesaver.
Vargas is currently attempting to get approval from Kobe Bryant for publishing. If this is the most interesting and unique painting you have seen or would like to contact the artist please leave a comment or email admin.
Here is where you can tell thousands of people what you think. Share a comment with thousands of visitors at First Class Fashionista. Is this First Class Fashionista Hot or Not? *First Class Fashionista is Copyright Protected. First Class Fashionista permits a direct homepage link and credit.

First Class Fashionista would like to invite you to shop:
Discount Designer Clothes
Discount Designer Shoes
Discount Designer Handbags
*BOOKMARK THIS SITE for Updates* Kobe Bryant Artwork