Jada Pinkett Smith in a Jumper on the Red Carpet of the 2010 BET Awards held at the Shrine Auditorium in Los Angeles, California on June 27, 2010
I picked up this story What is Jada Pinkett Smith Wearing on BET Awards? Diapers? at http://blackpoliticalthought.blogspot.com/2010/06/what-is-jada-pinkett-smith-wearing-on.html.
Here's the truth at First Class Fashionista: Jumpers are trendy right now, but I probably wouldn't have worn this one on the red carpet of the 2010 BET Awards…But Jada Pinkett does have beautiful legs, and Jada Pinkett Smith is definitely working this jumper- even if it is sagging a bit in the middle! Can you pull it off?
And what do you think of Jada Pinkett's lace-up pumps?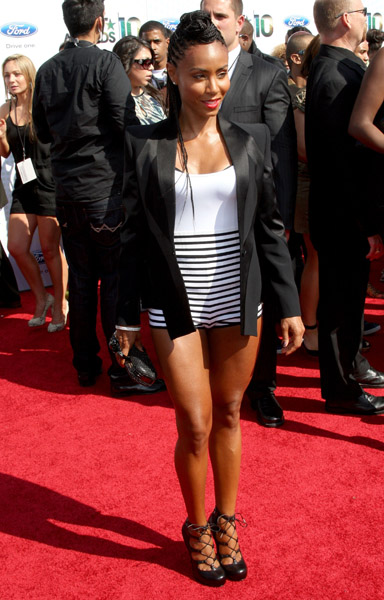 Here is where you can tell thousands of people what you think. Share a comment with thousands of visitors at First Class Fashionista. Is this First Class Fashionista Hot or Not? *First Class Fashionista is Copyright Protected. First Class Fashionista permits a direct homepage link and credit.

First Class Fashionista would like to invite you to shop:
Discount Designer Clothes
Discount Designer Shoes
Discount Designer Handbags
*BOOKMARK THIS SITE for Updates* Jada Pinkett Smith on the red carpet of the 2010 BET Awards