Reportedly, Tiger Woods' divorce attorneys has offered Tiger Woods' estranged wife Elin Nordegren a divorce settlement of $700-$750 million contingent upon Elin's silence.
It has been said that the proposed confidentiality agreement will not allow Elin Nordegren to do any interviews about Tiger Woods or even write a book about their life together.
Can $750 million buy Elin Nordegren's silence? Should Elin Nordegren take the $750 million?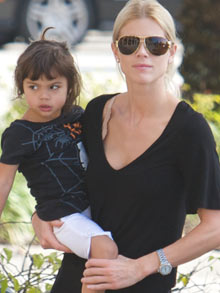 Here is where you can tell thousands of people what you think. Share a comment with thousands of visitors at FirstClassFashionista.com. Is this First Class Fashionista Hot or Not? *First Class Fashionista is Copyright Protected. First Class Fashionista permits a direct homepage link and credit.

First Class Fashionista would like to invite you to shop:
Discount Designer Clothes
Discount Designer Shoes
Discount Designer Handbags
*BOOKMARK THIS SITE for Updates* Elin Nordegren $750 Million