Lindsay Lohan was sentenced to 3 consecutive 30 day sentences- 30 days in jail for reckless driving; 30 days in jail on the first DUI case, consecutive and 30 days in jail on the second DUI case, consecutive. Lindsay Lohan will also spend 90 days in in-patient rehab for violating probation.
Below is Lindsay Lohan's Response to Being Sentenced to 90 Days in Jail:
"Honestly it did wake me up. Yes, of course it scared me and it also confused me because I was there thinking that it was okay that I missed those classes. Had I known differently, I would have made sure that I was in town each week and I would have balanced my work around that because I'd rather be working in the long run. It's been such a long haul and I don't want you to think I don't respect you," Lindsay Lohan tells Judge Marsha Revel.
I almost believed Lindsay Lohan's courtroom act as she sat before Judge Marsha Revel and cried…But a close-up picture reveals that Linday Lohan had the bad word / the expletive / profanity "Fu**ck U" written in her nail polish during her court appearance yesterday…! And Lindsay Lohan said she respected the judge. Hmmm.
The fact is, I really don't think Lindsay Lohan even respected her own attorney. Why? Answer: The statement (located above) Lindsay Lohan made after being sentenced to 90 days in jail seemed to suggest that, perhaps, Lindsay believes she received "bad" legal advice. And did you see the dirty looks Lindsay Lohan gave her attorney during the sentencing? Read: Who Owes Lindsay Lohan? Help Lindsay Before It's Too Late!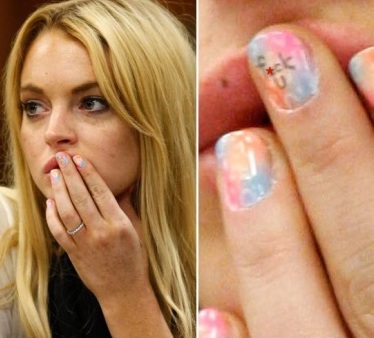 Here is where you can tell thousands of people what you think. Share a comment with thousands of visitors at FirstClassFashionista.com. Is this First Class Fashionista Hot or Not? *First Class Fashionista is Copyright Protected. First Class Fashionista permits a direct homepage link and credit.

First Class Fashionista would like to invite you to shop:
Discount Designer Clothes
Discount Designer Shoes
Discount Designer Handbags
*BOOKMARK THIS SITE for Updates* Lindsay Lohan Nail Polish