Lindsay Lohan was sentenced to 3-30 day consecutive sentences for a total of 90 days in jail.
Will Lindsay Lohan spend 90 days in jail? A recent poll suggests Lindsay Lohan will only spend 90 minutes in jail not 90 days in jail. What do you think? Will Lindsay Lohan serve 90 days in jail? Or 90 minutes?
Why is Lindsay Lohan Going to Jail?
Lindsay Lohan is going to jail for reckless driving and two DUIs.
The Photo Below: On the day of her sentencing, Lindsay Lohan appeared in court before Judge Marsha Revel with the expletive, "F**ck U" written in her nail polish. Lindsay Lohan later tweeted she meant no disrespect to Judge Marsha Revel and that it was just a joke between she and her friends. Read: Who Owes Lindsay Lohan? Help Lindsay Before It's Too Late!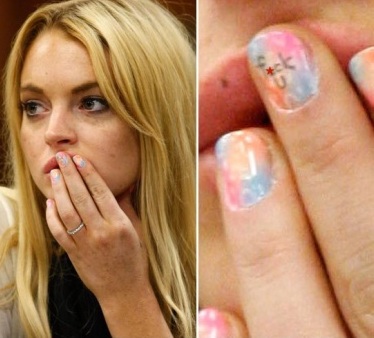 Here is where you can tell thousands of people what you think. Share a comment with thousands of visitors at FirstClassFashionista.com. Is this First Class Fashionista Hot or Not? *First Class Fashionista is Copyright Protected. First Class Fashionista permits a direct homepage link and credit.

First Class Fashionista would like to invite you to shop:
Discount Designer Clothes
Discount Designer Shoes
Discount Designer Handbags
*BOOKMARK THIS SITE for Updates* Lindsay Lohan Going to Jail