Cindy Crawford Beauty Secrets: Vitamin, Collagen and Botox Injections
Supermodel Cindy Crawford is a 44-years-old timeless beauty. People often wonder: "Did Cindy Crawford have plastic surgery"? There are even Cindy Crawford plastic surgery before and after pictures posted on internet blogs and websites.
But, in a recent interview with Ladies' Home Journal, Cindy Crawford only admits to having Botox injections.
"I've tried Botox, but it scares me…Plastic surgery is really scary, but as long as you don't use these things to change your face," Cindy Crawford tells Ladies' Home Journal.
In earlier interviews, Cindy Crawford has also admitted to getting vitamin and collagen injections.
"I'm not going to lie to myself: past a certain age, creams work on the texture of your skin but, in order to restore elasticity, all I can really count on is vitamin injections, Botox and collagen," says Cindy Crawford.
Meaningful Beauty is Cindy Crawford's anti-aging skin care product, but Cindy Crawford's real beauty secret (besides living a healthy lifestyle and having good genes) is vitamin, collagen and Botox injections.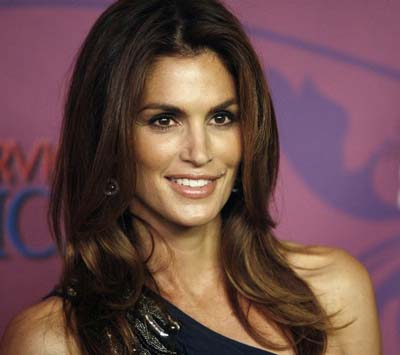 Here is where you can tell thousands of people what you think. Share a comment with thousands of visitors at FirstClassFashionista.com. Is this First Class Fashionista Hot or Not? *First Class Fashionista is Copyright Protected. First Class Fashionista permits a direct homepage link and credit.

First Class Fashionista would like to invite you to shop:
Discount Designer Clothes
Discount Designer Shoes
Discount Designer Handbags
*BOOKMARK THIS SITE for Updates* Cindy Crawford Beauty Secrets
Popular searches:
Did Cindy Crawford have plastic surgery?
Cindy Crawford plastic surgery before and after pictures
Cindy Crawford plastic surgery pics
Cindy Crawford beauty
Cindy Crawford Botox
Cindy Crawford beauty tips
Cindy Crawford beauty line
Cindy Crawford meaningful beauty
Cindy Crawford meaningful beauty anti-aging skin care products